Revolutionize the Miniaturization of Auxiliary Power Supplies
DULLES, VA, December 4, 2020 — GeneSiC announces availability of industry-leading 3300V and 1700V discrete SiC MOSFETs that are optimized to achieve unparalleled miniaturization, reliability and energy savings in industrial housekeeping power.
GeneSiC Semiconductor, a pioneer and global supplier of a comprehensive portfolio of Silicon Carbide (SiC) power semiconductors, today announces the immediate availability of next-generation 3300V and 1700V 1000mΩ SiC MOSFETs – G2R1000MT17J, G2R1000MT17D, and G2R1000MT33J. These SiC MOSFETs enable superior performance levels, based on flagship Figures of Merit (FoM) that enhance and simplify power systems across energy storage, renewable energy, industrial motors, general-purpose inverters and industrial lighting. Products released are:
G2R1000MT33J – 3300V 1000mΩ TO-263-7 SiC MOSFET
G2R1000MT17D – 1700V 1000mΩ TO-247-3 SiC MOSFET
G2R1000MT17J – 1700V 1000mΩ TO-263-7 SiC MOSFET
G3R450MT17D – 1700V 450mΩ TO-247-3 SiC MOSFET
G3R450MT17J – 1700V 450mΩ TO-263-7 SiC MOSFET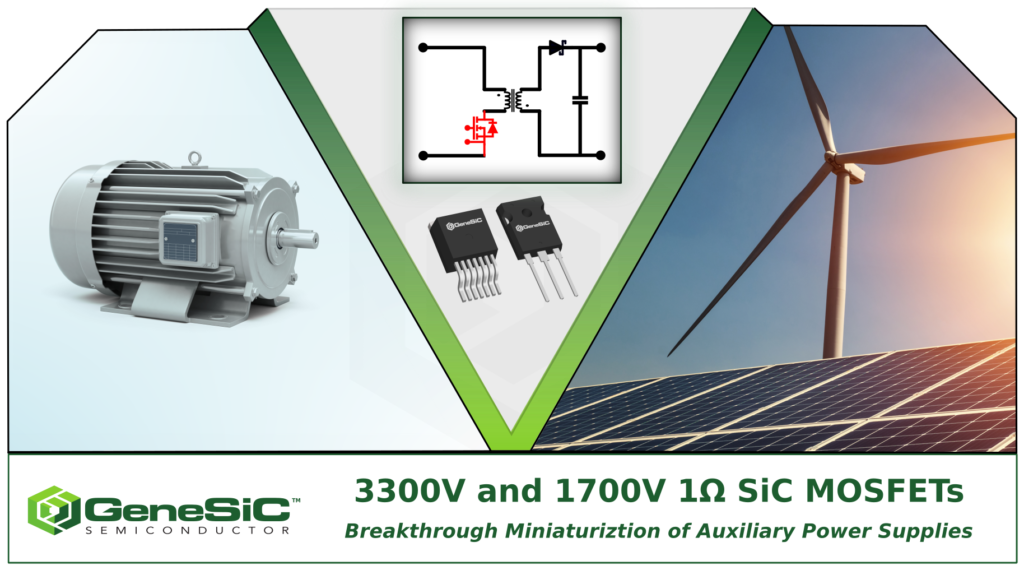 GeneSiC's new 3300V and 1700V SiC MOSFETs, available in 1000mΩ and 450mΩ options as SMD and Through-Hole discrete packages, are highly optimized for power system designs requiring elevated efficiency levels and ultra-fast switching speeds. These devices have substantially better performance levels as compared to competing products. An assured quality, supported by fast turn-around high volume manufacturing further enhance their value proposition.
"In applications like 1500V solar inverters, the MOSFET in auxiliary power supply may have to withstand voltages in the range of 2500V, depending on the input voltage, turns ratio of the transformer and the output voltage. High breakdown voltage MOSFETs obviate the need for series connected switches in Flyback, Boost and Forward converters thereby reducing parts-count and reducing circuit complexity. GeneSiC's 3300V and 1700V discrete SiC MOSFETs allow the designers to use simpler single switch based topology and at the same time provide customers with reliable, compact and cost-effective system" said Sumit Jadav, Senior Applications Manager at GeneSiC Semiconductor.
Features –
Superior price-performance index
Flagship QG x RDS(ON) figure of merit
Low intrinsic capacitance and low gate charge
Low losses at all temperatures
High avalanche and short circuit ruggedness
Benchmark threshold voltage for normally-off stable operation up to 175°C
Applications –
Renewable energy (solar inverters) and energy storage
Industrial motors (AC servos)
General-purpose inverters
Industrial lighting
Piezo drivers
Ion-beam generators
All devices are available for purchase through authorized distributors – www.genesicsemi.com/sales-support
For datasheet and other resources, visit – www.genesicsemi.com/sic-mosfet or contact sales@genesicsemi.com