New Hyde Park, NY… A broad, new selection of Keystone's popular Densi-Pak covered plastic battery holders now includes the option to have a built-in On/Off switch.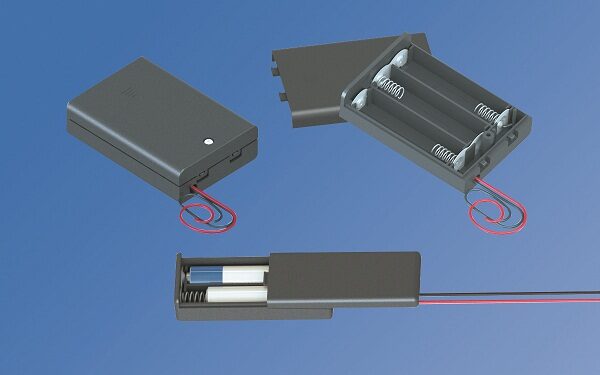 The built-in On/Off switch eliminates the need for additional components in designs using "AA" and "AAA" batteries – ideal for self-contained powering components in a variety of applications.
These high-performance Battery Holders are made with an ABS Plastic caseand Nickel-Plated Coil Spring Steel contacts for a reliable, low contact resistance battery connection. The Densi-Pak, snap-on cover design protects and secures the batteries within the compartment to prevent shorting or damage. Holders are supplied with 6″ long #26 AWGtinned and snipped wire leads for simplified installation.
These switched battery holders are available to accommodate 2 or 3 "AA" or "AAA" batteries. Also available are IP65 water and dust resistant versions to accommodate 2, 3 or 4 "AA" cells. Supplied from stock via Keystone's global distribution network and online.
These new Battery Holders are the latest examples of Keystone's innovative leadership role for engineering battery connectivity products including Contacts, Holders, Retainers and Straps.
Keystone is a major manufacturer of SMT and THM battery hardware, along with an extensive array of electronic interconnects and hardware.  In addition, application engineering services are also available to meet special product modifications or custom designs with active Stamping, Machining, Assembly, CNC and Molding support.
Keystone is ISO-9001:2015 certified and RoHS, REACH compliant with USA headquarters and offices in Canada, Europe, Australia and Asia.  For further details and to request literature contact (800) 221-5510 or (516) 328-7500; fax (516) 328-1080; Email:  kec@keyelco.com or view www.keyelco.com.