N2646 is a general-purpose silicon PN Unijunction Transistor that is designed for general-purpose industrial applications.
This transistor is made out of n-type semiconductors, with the length of the p-type material controlled to help fix the intrinsic standoff ratio parameter. Emitter, base, and collector are the three terminals on a typical 2n2646 UJT.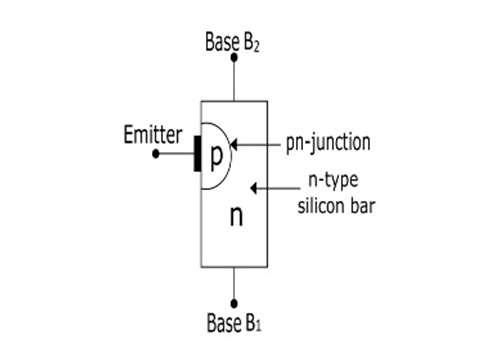 Pin Configuration
| Pin | Name | Description |
| --- | --- | --- |
| 1 | Base 1 | Normally connected to Power |
| 2 | Emitter | An emitter is used for triggering transistor ON and OFF |
| 3 | Base 2 | Normally connected to Load |
Working
1. When the Emitter is Open
When the voltage VBB is applied with the emitter open, a potential gradient is established along the n-type silicon bar.
The voltage V1 (between emitter and B1) establishes a reverse bias on the PN-junction.
Emitter current is cut off, but a small leakage current flows from B2 to emitter due to minority charge carriers.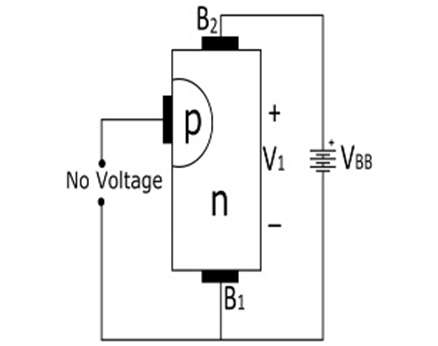 Thus, the device is said to be in an OFF state.
2. With Emitter at Positive Potential
When a positive voltage is applied at the emitter terminal, the PN-junction will remain reverse biased till the input voltage is less than V1.
The PN-junction becomes forward-biased when the input voltage at the emitter exceeds V1.
Under this condition, holes are supplied from the p-type region into the n-type bar, due to this saturation of charge carriers occur.
The emitter current is limited by the emitter power supply because of this saturation.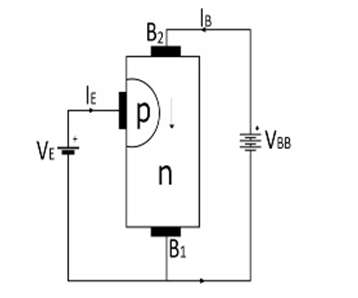 Now, the device is conducting, hence said to be in ON state.
Characteristics of 2N2646 Uni Junction Transistor
Low Peak Point Current: 5mA (Max).
Low Emitter Reverse Current:005mA (Typ).
Maximum voltage between two bases (VB2B1): 35V.
Maximum emitters reverse voltage (VB2E): 30V.
Maximum RMS emitter current (Ie): 50mA.
Maximum peak emitter current (Ie): 2A.
Applications of 2N2646 Uni Junction Transistor
Timing circuit.
Voltage detector.
Phase control circuit.
General-purpose industrial applications.