The 2N4403 is a PNP general-purpose transistor that can amplify or switch electronic signals and electrical power. It is inexpensive, simple to use, and ideal for use as a random switching device. The 2N4403 can also be used as a basic power amplifier, which can be used to boost low-power signals.
The 2N4403 is housed in a TO-92 plastic case. When looking at the flat side with the leads pointing downward, the three leads emerging from the transistor are the emitter, base, and collector leads, from left to right.
2n4403 is a PNP bipolar junction transistor that conducts by the movement of holes and electrons, with holes serving as the majority charge carriers.
It is made up of three terminals known as emitter-base collectors. The N layer represents the transistor's base, while the other two layers represent the emitter and collector, respectively.
Because it is a PNP transistor, the base terminal will be negative about the emitter.
Most transistors behave like switches because when a small voltage is applied to the base side, it is used to control the large currents at the emitter and collector sides, and the switch is considered ON. The switch is considered OFF when there is no bias at the base side.
PNP transistors are also known as current-controlled devices because a small current on the base side controls the large currents on the emitter and collector sides.
Pin Configuration
The pin diagram of the 2N4403 PNP transistor IC have shown below.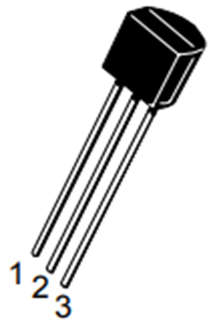 | Pin No. | Pin Name | Description |
| --- | --- | --- |
| 1 | Emitter | Normally connected to Power. |
| 2 | Base | The base is used for triggering transistors ON and OFF. |
| 3 | Collector | Normally connected to Load. |
Features & Specifications of 2N4403 Transistor
With a DC Current Gain of up to 300 times (hFE).
Maximum voltage between collector and emitter is 40V.
The maximum current that can be drawn from the trough collector is 600mA.
Maximum voltage across collector and base: 40 volts.
The maximum current allowed through the base is 50mA.
The maximum voltage that can be applied across the base and emitter is 5 volts.
The operating temperature range is -55°C to +150°C.
Maximum power dissipation is 0.31 W.
Planar epitaxial silicon transistor.
There are Pb-free packages available.
Package / Case: TO-92.
Packaging: Bulk.
Number of Terminations: 3.
Max Operating Temperature: 150°C.
Min Operating Temperature: -65°C.
Pin Count: 3.
Mount: Through Hole.
Number of Elements: 1.
Polarity: PNP.
Applications of 2N4403 Transistor
Simple switching applications.
Microphone pre-amplifiers.
Lighting systems.
Relay drivers.
Audio amplifiers.
Signal amplifiers.
Sensor circuits.