2SA1943 PNP and 2SC5200 NPN are audio power transistors that have a large current capability (IC = 15A) and a high transition frequency (typically fT = 30 MHz), making them ideal for use in applications amplifier audio output high fidelity (Hi-Fi Audio Power Amplifier Output) powered 100 Watt RMS.
The 2SC5200 transistor is a PNP power transistor with the same characteristics as the 2SC5200. They are used together in amplifier circuits in a push-pull configuration because their specifications are similar and complementary.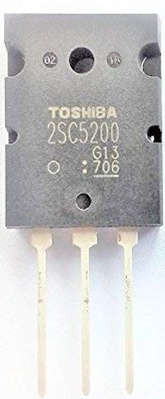 Complementary transistors can also be used in Darlington Pair configuration for amplifier applications (general purpose amplifier) up to PD (max) = 150 Watt DC (at 25 ° C, decreasing linearly by 1,04W per degree of temperature increase). The 2SA1943 and 2SC5200 have typical collector terminal capacitances ranging from 360 pF to 200 pF.
NPN transistors are those that have one p-type material sandwiched between two n-type materials. The NPN transistor amplifies the weak signal that enters the base and generates high-amplitude signals at the collector end.
In an NPN transistor, an electron moves from the emitter to the collector region, causing current to flow through the transistor. This type of transistor is commonly used in circuits because its majority charge carriers are electrons, which have higher mobility than holes.
Pin Configuration
The pin diagram of the 2SC5200 transistor is shown below.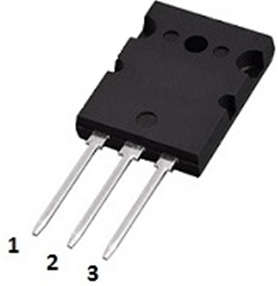 | Pin No. | Pin Name | Description |
| --- | --- | --- |
| 1 | Base | Controls the biasing of the transistor, Used to turn ON or OFF the transistor. |
| 2 | Collector | Current flows in through collector, normally connected to load. |
| 3 | Emitter | Current Drains out through emitter, normally connected to ground. |
Features Specifications of 2SC5200 Transistor
Audio Frequency Amplifier Output with High Fidelity.
Low Harmonic Distortion, High Transition Frequency, and Large Current Capability.
Use in the Output Stage of a 100W High Fidelity Audio Amplifier.
NPN-Transistor Polarity.
230V Collector-Base Voltage (VCBO).
230V Collector-Emitter Voltage (VCEO).
VEBO (Emitter-Base Voltage) -5V.
15A Continuous Collector Current (IC).
IB-1.5A (Base Current).
30MHz Transition Frequency (fT).
55-160 DC Current Gain (hFE).
Temperature range: -55°C to 150°C.
150W Power Dissipation (PD).
Applications of 2SC5200 Transistor
2SC5200 is used mainly in audio frequency amplifiers.
Used in radio frequency circuits as well.
Switch-mode power supplies (SMPS).
Relays.
Used with its complementary transistor in a push-pull configuration.
Power supply.
Switching a load with a high current rating.
Power amplifiers.
Inverters.
Converters.
Power control circuits.
DC to AC converters.