The transition toward 5G implementation in the next five years is dramatically reshaping the RF power market, according to the latest report from Yole Développement (Yole), with enormous business opportunities for compound semiconductors.
In its 'RF Power Market and Technologies 2017: GaN, GaAs and LDMOS Report', Yole forecasts the market to grow strongly in coming years with increasing demand for telecom base station upgrades and small cell implementations.
Overall market revenue could increase 75 percent between 2016 and the end of 2022, posting a 9,8 percent CAGR during this period. This would be a change from $1.5 billion in 2016 to more than $2.5 billion in 2022.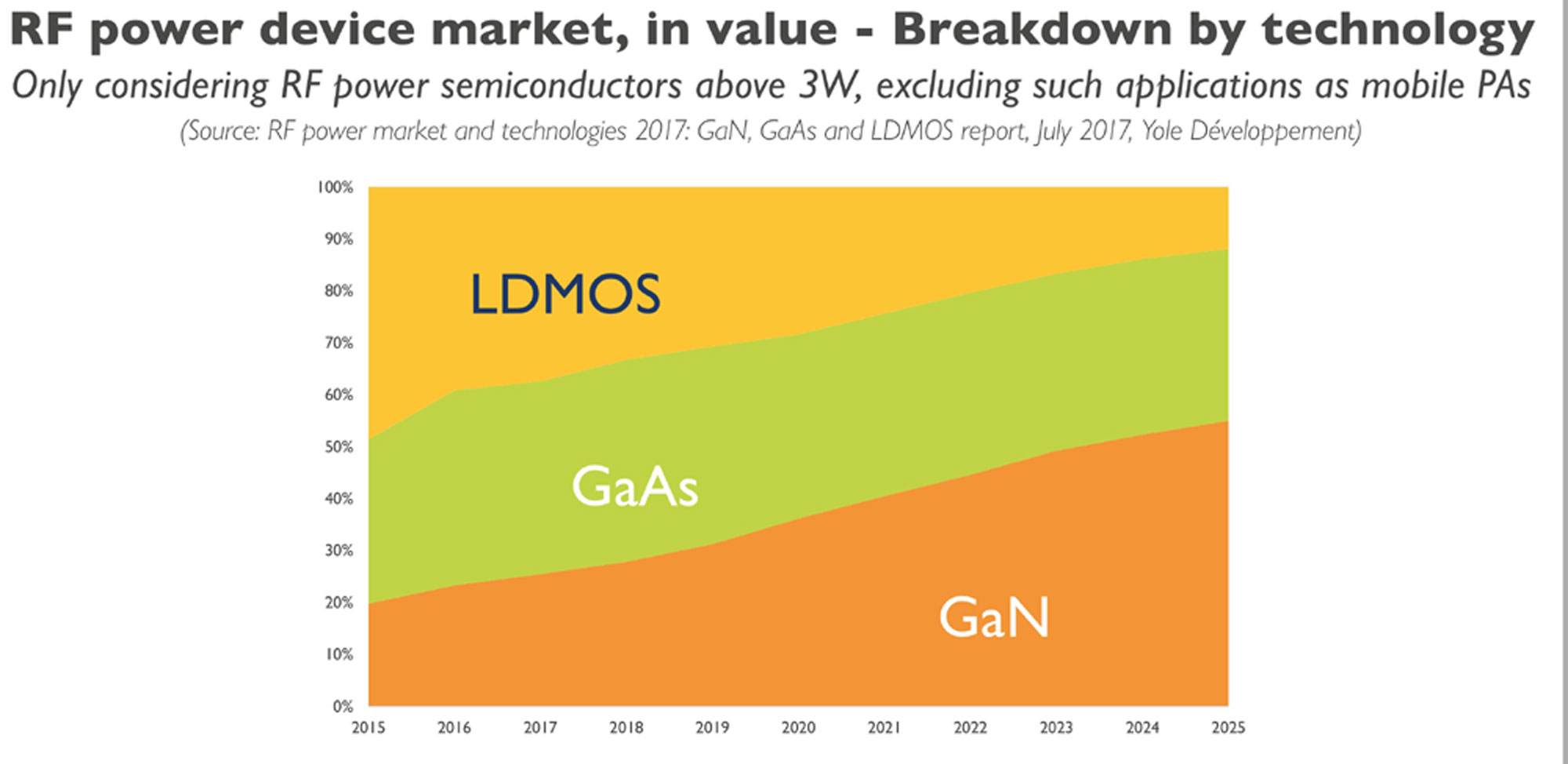 Today the market is standing at the threshold of completion of 4G networks, and then beginning the transition to 5G. While much is still to be settled, what is certain is that the new radio network will require more devices and higher frequencies. Chip providers therefore have a tremendous opportunity, especially RF power semiconductor sellers.
"At Yole we estimate the market size of telecom infrastructure including base stations and wireless backhaul accounts for about half of the total market size", announces Hong Lin, Technology & Market Analyst at Yole. In addition, she adds: "It will continue growing fast at an expected 12.5 percent CAGR for base stations and 5.3 percent CAGR for telecom backhaul over 2016–2022."
In the meantime, defence applications are also providing good opportunities for RF power devices, as there is a trend of replacing old vacuum tube designs with solid-state technologies exploiting GaAs and GaN. These new technologies provide better performance, reduced size as well as robustness in various use cases. Therefore, they are gradually taking more market share. This market segment's revenue will increase around 20 percent by 2022 with a 4.3 percent CAGR between 2016 and 2022.