The AD623 is an Instrumentation Amplifier with Rail to Rail feature. It also operates at a very low current of 550nA making it suitable for battery-operated applications.
Instrumentation amplifier:
An instrumentation amplifier (sometimes shorthanded as in-amp or In Amp) is a type of differential amplifier that has been outfitted with input buffer amplifiers.
These buffer amplifiers eliminate the need for input impedance matching and thus make the amplifier particularly suitable for use in measurement and test equipment.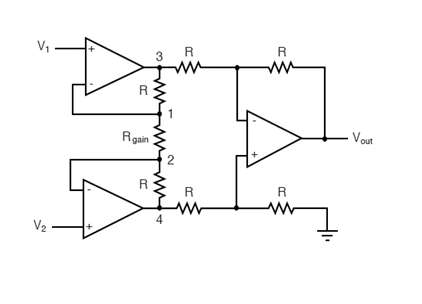 Rail to rail Op-Amp:
The output stage transistors prevent the amplifier from reaching the maximum positive voltage or minimum negative voltage.
Therefore, the output pin of a normal op-amp will not be able to provide a voltage that is equal to the supply voltage.
But the Rail to Rail Op-Amp overcomes this problem and hence the output pin can reach either positive rail voltage or negative rail voltage.
Terms rail-to-rail input/output (RRIO) and rail-to-rail output (RRO).
If an op amp can drive RRO, it means you have a good dynamic range in which to work on the signal. A related term, headroom, is a measure of how close the signal comes to the rails.
WORK of AD623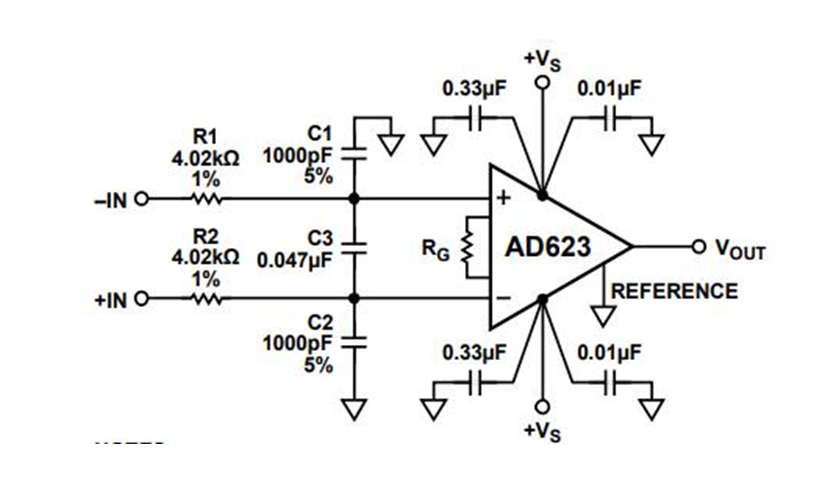 The AD623 only requires a resistor to sets its gain value and hence can be easily set up. A very basic commonly used circuit for AD623 is shown below.
The IC is powered using pin 7 and pin 4, here I have used a singly supply of +5V hence pin 4 is grounded.
If a dual supply voltage is used pin 4 will be provided with negative voltage.
The non-inverting pin (pin 2) and the inverting pin (pin 3) are connected to the signal which has to be amplified or compared based on the application of the Op-Amp.
The Reference pin (pin 5) is normally grounded along with pin 4, the reference pin is used to direct the output towards a voltage when the difference voltage between the inverting and the non-inverting pin is 0V.
PIN Description

| PIN | PIN Name | Description |
| --- | --- | --- |
| 1 | Gain (-Rg) | Inverting Gain Terminal connected to a resistor to set gain value |
| 2 | Inverting Input | The Inverting input pin of the Op-Amp |
| 3 | Non-Inverting | The Non – Inverting Input Pin of |
| 4 | Power (-Vs) | Negative supply terminal |
| 5 | Reference | Output reference input. Normally to common |
| 6 | Output | Amplifier output pin |
| 7 | Power (+Vs) | Positive supply terminal |
| 8 | Gain (+Rg) | Non-Inverting Gain Terminal connected to a resistor to set gain value |
Applications of AD623
Low power medical instrumentation
Transducer interfaces
Thermocouple amplifiers
Industrial process controls
Difference amplifiers
Low power data acquisition