Optimized for superior image visualization and best-in-class hygiene management
ADLINK's new ASM series offers clear, highly accurate image quality and excellent reproduction of high-definition color and grayscale imagery to expedite image-guided treatment
Features a robust and hygienic design for faster, easier cleaning procedures to speed up sanitization of surgical theaters and critical care environments
ADLINK's surgical monitors are medically certified as class I devices per European MDD to guarantee patient and operator safety and to ease system level integration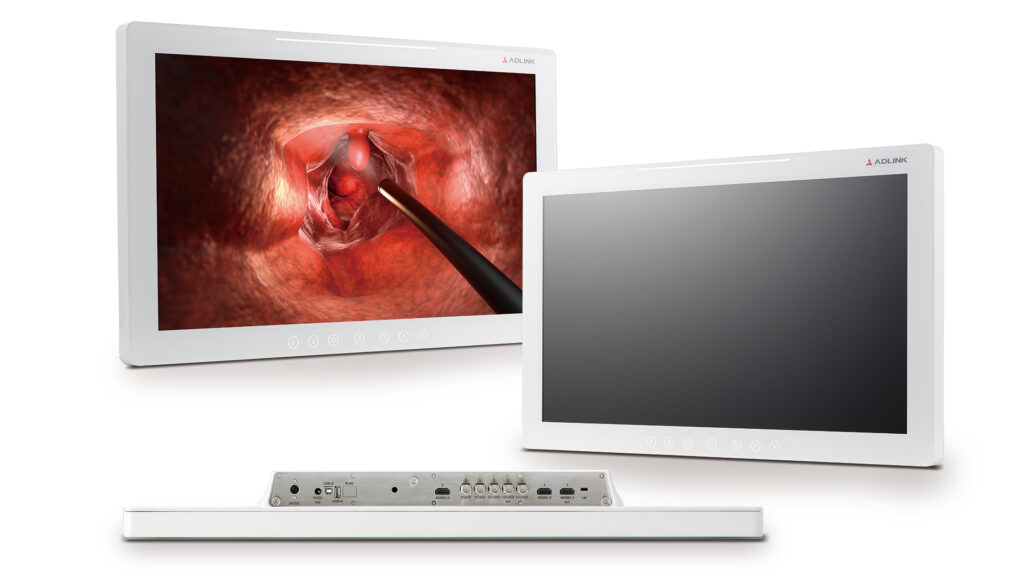 Taipei, Taiwan – January 26, 2021: ADLINK Technology Inc., a global leader in edge computing, has introduced the ASM (ADLINK Surgical Monitor) series of medically certified surgical monitors, which are designed for integration with endoscopic, microscopic, fluoroscopic, multi-modality, and other medical imaging systems. The ASM series of surgical monitors is used to visualize videos and still images from a variety of clinical imaging modalities in operating theaters, intensive care units, emergency and examination rooms. ADLINK's surgical monitors are the latest addition to ADLINK's operating room medical device portfolio.
Surgical monitors must attain medical certification to meet a range of criteria far above those of a typical desktop display screen. In development of the new ASM series, ADLINK analyzed the global medical imaging market to identify and combine the components, technologies and features that provide the most effective support for critical care facilities. These new surgical monitors offer a unique combination of advantages for medical practitioners, including superior safety and hygiene features, excellent image and color visualization, and extremely low latency to allow for more precise procedures and diagnoses without fatiguing the operator.
"If you take the five top monitors in the market and combine their best features, that is what ADLINK has done with the development of the ASM surgical monitor series," said Andreas Holst, Project Manager Medical, ADLINK. "Particularly during the pandemic, surgeons and caregivers require high-precision monitors to quickly complete diagnoses to keep staff and patients safe, and OEMs and device manufacturers need monitors with great connectivity, functionality and certification for easy integration into new products. This is what the ASM surgical monitor series delivers."
ASM surgical monitors feature an edge-to-edge protective glass screen securely adhered to the front panel, and in the event of an impact the screen stays in place on the monitor, preventing potential hazard and hygiene breaches. It can be equipped with PCAP multi-touch functionality to implement control of application software or connected devices. A fully sealed, screwless aluminum housing with an antibacterial coating complies with the IP54 Ingress Protection code and offers protection from liquid and dust penetration. The entire unit supports spray and wet disinfection to help reduce the risk of nosocomial infections.
Clear, accurate image quality is essential for surgical monitors. ADLINK's ASM series feature multi-signal and multi-format Intel FPGA-based image processing and color reproduction for superior visualization of color images, in-line with standards such as Rec709 for full HD content and BT2020 for Ultra HD. The series also offers high resolution display of still images and surgical videos at very low latency. The ASM series monitors come in a range of dimensions from 23.8 inches to 32 inches to accommodate a variety of healthcare work environments and solution designs, and are available with multi-touch projected capacitive screens (PCAP).
The ASM series of surgical monitors can be customized to meet the unique requirements of medical device OEMs. ADLINK's hardware design concept allows for joint product customization together with the medical device OEMs in a shorter timeframe, compared to other technologies with more significant development efforts, shortening time-to-market cycles. The medical class I (per European MDD) monitors are certified to meet standards IEC 60601-1:2012 and EN 60601-1:2013, and standards IEC 60601-1-2:2014 & EN 60601-1-2:2015, to ensure the highest level of operator and patient safety.