By Mustaqh Ali Shaik, Marketing Manager at MosChip & Core Committee, IESA AI Summit 2023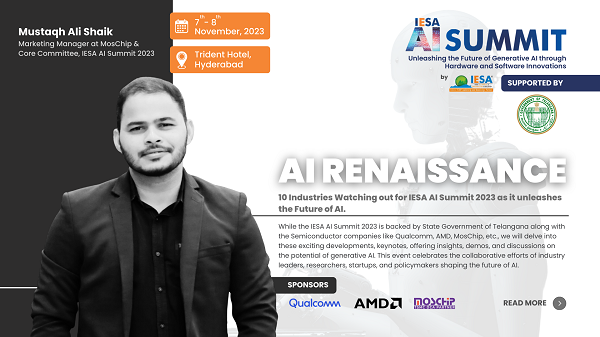 In today's rapidly evolving technological landscape, artificial intelligence (AI) and machine learning (ML) are not just buzzwords; they are transforming industries, reshaping our daily lives, and pushing the boundaries of innovation.
If you wish to dive deeper, At the core of AI's future lies the convergence of hardware and software innovations. Custom AI chips and accelerators are boosting processing capabilities, while AI-driven software solutions are making AI accessible across industries. This synergy is enabling generative AI, which includes technologies like GPT-3 and generative adversarial networks (GANs) are capable of tasks like text, image, music & video generation, taking creativity and problem-solving to new heights.
This November, the IESA AI Summit 2023 which is the 3rd edition but the First ever physical eventhappening at the Trident Hotel in Hyderabad, will bring together visionaries, experts, and thought leaders to explore the theme "Unleashing the Future of Generative AI through Hardware & Software Innovations."
The Summit will encompass a wide range of Industries, each of which plays a pivotal role in the advancement of AI and ML technologies:
Semicon: Semiconductors are the heart of AI hardware. Innovations in semiconductor technology, such as AI-specific chips and accelerators, have revolutionized the field by enhancing processing power and energy efficiency.
IT/IOT/Cyber Security: The interconnected nature of AI systems demands robust IT, IoT, and cybersecurity solutions. Safeguarding data and networks is paramount as AI permeates various sectors.
Auto: AI is driving autonomous vehicles and redefining the automotive industry. This sector explores AI-driven features like advanced driver assistance systems (ADAS) and self-driving cars.
Industry 4.0: Manufacturing processes have entered the era of Industry 4.0, where AI-driven automation, predictive maintenance, and data analytics are optimizing operations and efficiency.
Robotics: AI and ML are at the core of robotics, enabling robots to perform complex tasks in diverse domains, from manufacturing to healthcare.
Medical: AI is revolutionizing healthcare by enhancing diagnostics, drug discovery, and patient care. The integration of AI-powered medical devices and systems is changing the medical landscape.
Startups: Emerging startups are at the forefront of AI innovation. They bring fresh perspectives and groundbreaking solutions to the table, driving the industry forward.
Academia & Research: Universities and research institutions are vital in advancing AI through groundbreaking research, nurturing talent, and fostering collaboration with the industry.
Government Policy: Governments play a crucial role in shaping AI regulations and policies, ensuring ethical AI development, and facilitating technology adoption.
Training Institutes: Building a skilled workforce is paramount. Training institutes are preparing the next generation of AI professionals and providing continuous education for industry veterans.
While the IESA AI Summit 2023 is backed by State Government of Telangana along with the Semiconductor companies like Qualcomm, AMD, MosChip, etc., we will delve into these exciting developments, keynotes offering insights, demos, and panel discussions on the potential of generative AI.
This event is orchestrated by a distinguished panel of industry veterans, including luminaries like Shahi Reddy, Vice President of Qualcomm India, Venkata Simhadri, MD & CEO of MosChip, Kamal Jain, Country Head of Blaize India, Sanjay Churiwala, Corporate VP of AMD, Shrinivas Raju, CEO of PiSquare Technologies, Krishna Moorthy, President & CEO of IESA, and numerous other domain experts.
In a nutshell, This event celebrates the collaborative efforts of industry leaders, researchers, startups, and policymakers shaping the future of AI.
Join us on 7-8th November 2023 in Trident Hotel, Hyderabad. Registrations are Open & visit here for more details: https://iesaonline.org/event-details/ai-summit-2023
About the Author:
Mustaqh Ali Shaik is a seasoned professional with over a decade of expertise in branding, digital marketing, PR, and growth hacking. He has been in the product and technology companies collaborating with executive leaders across diverse industries and helping organizations grow organically in the Digital World.
He holds dual postgraduate degree for MBA & PGDM in Marketing & Advertising from the University of Mysore. He still continuous learning, staying actively involved with students, particularly guiding and advising MBA graduates who aspire to pursue a career in Digital Marketing.
Connect with him here on LinkedIn to discover the depth of his thoughts and ideas: https://www.linkedin.com/in/mustaqhalishaik/