Air core inductor is an electrical component used to store the energy resulting from current passing through it in a magnetic field.
Constructions: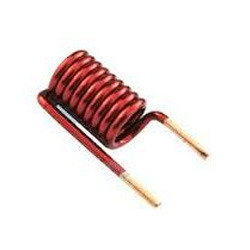 The basic construction of air core inductor it consist of coils having number of turns of wire wound on a former made of ordinary cardboard.
The plastic or ceramics may be used for a former as an insulating material.
Since there is nothing but air inside of former, the inductor is known as air core inductor.
The gap inside a plastic or paper former acts as a core. Thus air acts as a core.
The magnetic wire wound on the former from the coil of the inductor.
Requirement of air core coil
The main requirements of air core coils are as given below,
Stability of inductance.
Low self capacitance.
Reasonable size and cost.
Low temperature coefficient.
High ratio of inductive reactance to effective loss resistance at operating frequency.