Nijmegen, The Netherlands – Ampleon has further strengthened its portfolio of advanced yet cost-effective RF power amplifier solutions by announcing the availability of two new wideband amplifier series: the 32V-rated BLP15M9Sxxx and the 50V-rated BLP15H9Sxxx devices.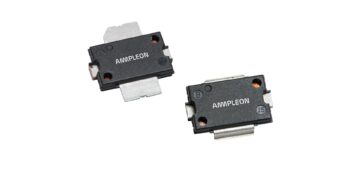 Both families, BLP15M9Sxxx and BLP15H9Sxxx, are based on the company's 9th generation LDMOS and high-voltage LDMOS technologies respectively and support frequencies of up to 2GHz. They are capable of both continuous wave (CW) and pulsed signal operation, exhibiting elevated levels of stability. The BLP15MSxxx family comprises dedicated devices offering 100W, 70W and 30W and the BLP15H9Sxxx family supports devices delivering 100W, 30W and 10W. The BLP15M9Sxxx devices will deliver efficiencies of around 75% and with the BLP15H9Sxxx devices typically attaining +65%.
The breadth of frequencies these amplifier ICs can support means that they are highly suited to an extensive array of different applications. These applications span all the way from particle accelerators and plasma generators through to MRI imaging equipment, industrial heating systems, radar implementations and Broadcast.
Ampleon's BLP15M9Sxxx and BLP15H9Sxxx LDMOS amplifiers are supplied in compact SOT1482-1 (straight lead) and SOT1483-1 (Gull wing) format packages. Their highly robust construction ensures ongoing reliability. Use of plastic packaging helps to ensure that superior thermal performance is maintained, while also keeping unit costs down. Dual-side electro-static discharge (ESD) protection is incorporated into each device too.
More information on the new BLP15M9Sxxx and BLP15H9Sxxx including a variety of application reports is available here:
https://www.ampleon.com/products/general-purpose-wideband/
For a full overview of Ampleon's MultiMarket portfolio: https://www.ampleon.com/documents/brochure-leaflet/short-form-catalog.pdf