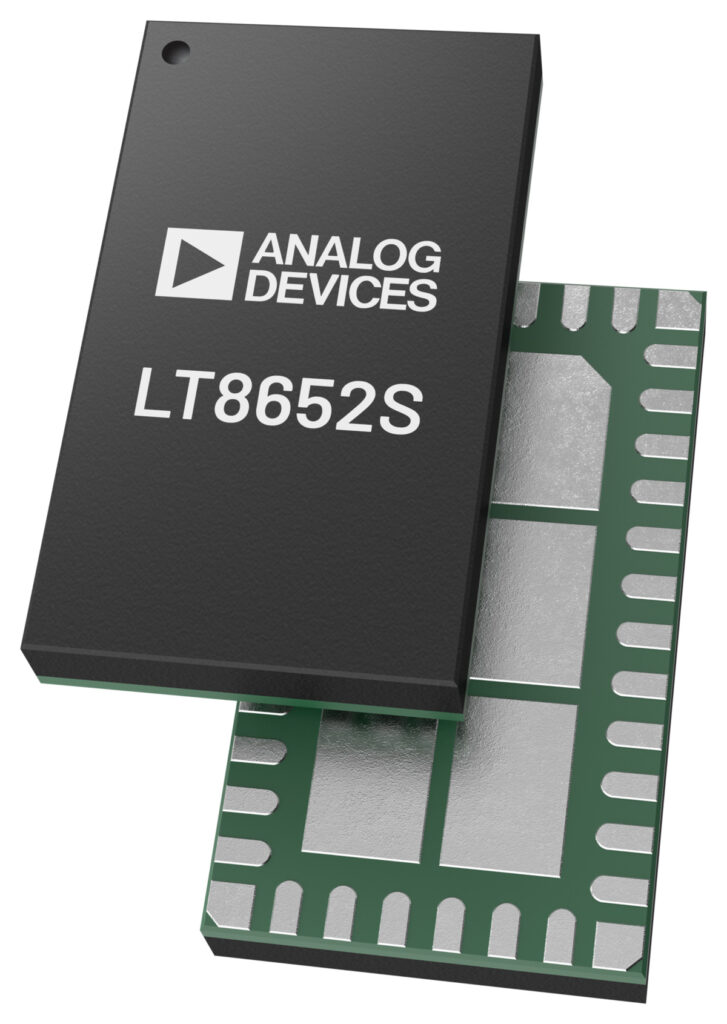 Delivers Low EMI Operation and Features Stackable-Friendly Output Current Configurations
Analog Devices, Inc. (ADI) has introduced the LT8650S, LT8652S and LT8653S dual-channel 4A/8.5A/2A synchronous step-down Silent Switcher® converters targeted for automotive, communications and solid state drive power supplies. The proprietary Silent Switcher 2 architecture along with spread spectrum frequency modulation ensures PCB layout robustness to achieve ultra-low EMI performance that easily meets CISPR25 emissions.
The LT8650S, LT8652S and LT8653S are also differentiated with their stackable-friendly outputs for higher current applications.  Outputs can be paralleled to scale up or down the output current based on the system need while optimising thermal performance. This also helps to minimise inventory and qualification time with a single device. For example, the LT8652S provides 8.5A DC from each channel simultaneously or up to 12A on either channel. Synchronising two LT8652S chips can achieve a 4-phase, 34A supply.
LT8650S/LT8652S/LT8653S Key Features:
Silent Switcher 2 Technology with Integrated Bypass Capacitors meets CISPR25 Emissions
Ultralow Quiescent Current Burst Mode® for Light Load operation
Up to 12A (LT8652S) on one channel
Adjustable and Synchronisable Frequency (300kHz to 3MHz)