It is a unit or module that enables two antenna feeds to be combined and carried down one feeder.
The RF diplexer antenna can act as a splitter to enable the signal from one feeder to be connected to two receivers or antennas.
These are available in a variety of formats and within a range of different powers, so that they can meet the needs of a variety of different applications needs.
RF diplexers can be implemented in a variety of ways.
The pathways for the various transmitters and receivers can then be divided this manner based on the frequency they operate at.
Although band-pass filters may be utilised, the simplest approach to create a diplexer is to employ a low pass and a high pass filter.
In this fashion, the diplexer sends all signals at frequencies below the low pass filter's cut-off frequency to one port, and all signals at frequencies above the high pass filter's cut-off frequency to the other port.
Additionally, there is no way here connecting the filters' two distant connections. Any signals that can pass through the diplexer's low pass filter but not the high pass filter will not be able to do so.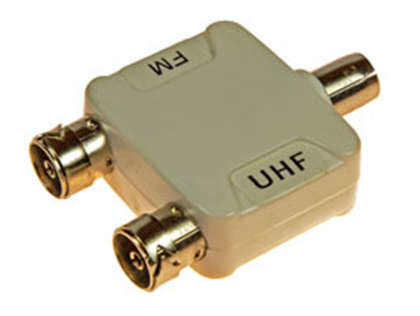 Working of Antenna Diplexer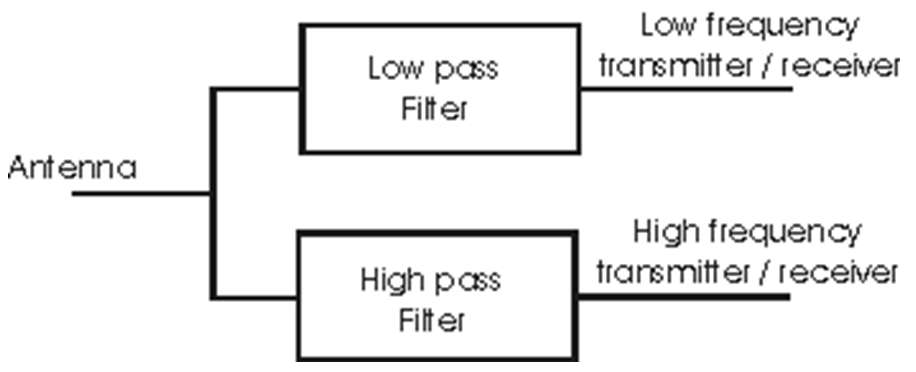 The diplexer is to use a low pass and a high pass filter to transmit or receive the signal or data.
Thus the diplexer routes all signals at frequencies below the cut-off frequency of the low pass filter to one port, and all signals above the cut-off frequency of the high pass filter to the other port.
Also there is no path between the two remote connections of the filters.
All signals that pass through the low pass filter in the diplexer will not be able to pass through the high pass filter and vice versa.
Applications of Antenna Diplexer
Enabling multiple transmitters to use a single antenna:
Multiple frequencies are frequently used by broadcast stations, maybe for various programmes or station identities. They might only have a single vertical antenna due to the size and cost of the antennae, but they might also want to aggregate the signals from numerous transmitters to feed into the antenna. It is possible to use a diplexer to combine the signals and use a single feed because they are on different frequencies.
Enabling a multiband transmitter to use different antennas according to frequency:
There is a growing trend for ham radio transmitters to have transmitters that cover the HF and VHF frequencies. Some transmitters, like some ham radio transmitters, can cover very large ranges of bands. They might even reach the UHF range. A common practise is to use one antenna system for HF operation and a another one for V/UHF operation. A diplexer can be used to direct HF signals to the HF antenna and V/UHF signals to the V/UHF antenna if there is only one transmitter output.
Allowing a single feeder to be used for multiple feeds, e.g. TV & radio:
Within a domestic scenario, it is often useful to have an external VHF FM or digital radio antenna along with a television antenna using single feeder. The signals from he antennas can be combined at the antenna end using diplexer, and a second diplexer at the point of use to route the signals to the radio and television. This can work well because television signals typically use frequencies above 300 mhz, often 400mhz and more, whereas VHF FM radio is between 87.5 and 108mhz, of within the VHF band is digital radio is used.