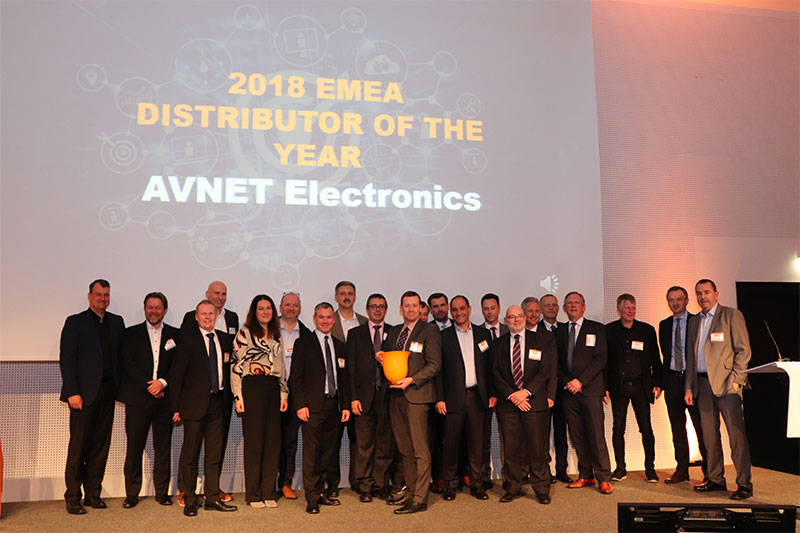 Distributor is named 'Distributor of the Year' for 2018 and gains award for 'Competitive Conversion'
Brussels, Belgium, 13 May, 2019: Avnet Abacus, one of Europe's leading interconnect, passive, electro-mechanical and power distributors and a regional business unit of global technology solutions company Avnet (NASDAQ: AVT), has won two awards  from one of its major and strategically important manufacturing partners – TE Connectivity, a global leader in connectors and sensors.
For the first of the two awards, TE Connectivity has named Avnet Abacus as its 'Distributor of the Year' for the EMEA region. This is based on Avnet Abacus' overall performance with special attention to key criteria including growth in sales and the development of new designs and projects, as well as delivering training based around the leading-edge products and technologies offered by TE.
The second award, for 'Competitive Conversion', has been given in recognition of Avnet Abacus' strong success in winning new business for TE products in competition with distributors offering solutions from alternative manufacturers.
"To win these two awards from the number one connectivity company in the world is a significant recognition of our capabilities and knowhow, and the contribution made across the entire Avnet Abacus team – from our engineering expertise to our skills in sales," said Alan Jermyn, VP European Marketing at Avnet Abacus. "Not only have we expanded TE's business in the EMEA region, but very importantly we have also delivered on our strategy to develop new opportunities in exciting and fast-growing applications in a broad range of thriving industries."
"These awards are a clear acknowledgement of Avnet Abacus' company-wide commitment to our products and technologies," said Rabih Nehme, Senior Director EMEA Channel Sales at TE Connectivity. "They have put in the necessary time and resources to fully understand our products and what is required to unlock the potential offered by our advanced technologies, especially with customers working at the leading edge in a number of areas including IoT and Industry 4.0 applications."
Avnet Abacus and TE continue to work closely together on major projects, helping customers gain from the advantages of integrating connectivity into new and existing applications including industrial automation designs and products.
Avnet Abacus is an authorised distributor of TE Connectivity's advanced interconnect and sensor solutions throughout Europe and the EMEA region.