overview, information, or tutorial about DSSS, direct sequence spread spectrum, and the way that the system operates.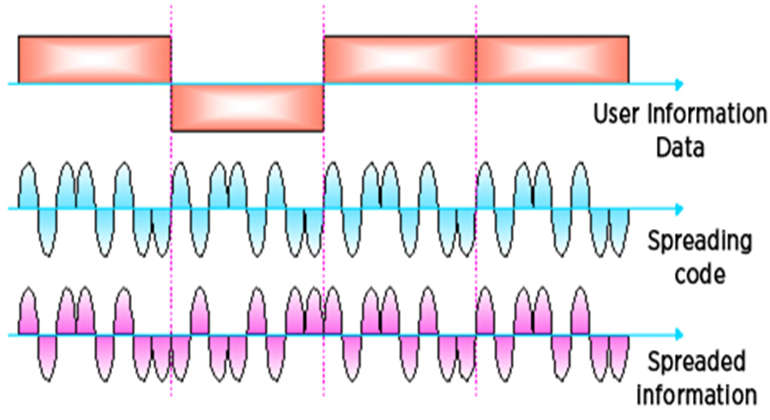 It is a transmission technology used in local area wireless network transmissions.
In DSSS technology, a data signal at the transmitter side is combined with a high data rate bit sequence, which divides user data based on a spreading ratio.
This term is also known as direct sequence code division multiple access.
DSSS is a technique used for digital signal transmission over airwaves.
The DSSS is originally developed for military use, and employed difficult-to-detect wideband signals to resist jamming attempts.
DSSS is also being developed for commercial purposes in local and wireless networks.
DSSS divided the stream of information into small pieces, each associated with a frequency channel across spectrums.
In DSSS the chipping code is a redundant bit pattern associated with each bit transmitted.
It helps to increase the signal's resistance to interference.
The original data can be recovered due to the redundancy of transmission if any bits are damaged during transmission.
This process is performed by multiplying a radio frequency carrier and a pseudo-noise (PN) digital signal.
The Pseudo-noise code is modulated onto an information signal using several modulation techniques such as quadrature phase-shift keying (QPSK), binary phase-shift keying (BPSK), etc.
Direct Sequence Spread Spectrum Spreading Gain
The spread spectrum signal will have a significantly broader bandwidth than the initial data stream.
The spreading gain, a word used to describe the increase in bandwidth, is employed.
The DSSS spreading gain can be defined as follows if the direct sequence spread spectrum signal's bandwidth is W and the input data bit length or period 1/R.
           Spreading gain =W/R
It has been discovered that the system performs better the larger the spreading gain of the direct sequence spread spectrum signal.
This happens as the wanted signal gets stronger.
The spreading gain in the aforementioned example is four, as can be observed by the fact that four "1"s are produced for each necessary data bit.
Other dispreading codes would produce data that would appear as noise and be less valuable, so it might be ignored.
Benefits of Using Direct Sequence Spread Spectrum
Resistance to unintended or intended jamming.
Sharing of a single channel among multiple users.
Reduced signal/background-noise level hampers interception.
Determination of relative timing between transmitter and receiver.
Applications of Direct Sequence Spread Spectrum
DSSS is used in several GNSS systems like GPS, Galileo, and GLONASS. Cordless phones use DSSS operating in the 900 MHz, 2.4 GHz, and 5.8 GHz bands. 2.4 GHz Wi-Fi (IEEE 802.11) and Zigbee, Wireless HART (IEEE 802.15.4) protocols use DSSS. It is also used in automatic meter reading and radio-controlled model automotive, aeronautical & marine vehicle applications.