It is a type of microwave antenna that uses a parabolic reflector, a curved surface with the cross-sectional shape of a parabola, to direct the radio waves to the receiver in its focal point.
A parabolic antenna is composed of a parabolic dish along with antenna feed. The various arrangements are used as feed for the parabolic reflector antenna.
The parabolic antenna includes center feed with spherical cells, center feed with horn antenna, Cassegrain feed, etc.
In parabolic antenna is used as a transmitter and as the receiver.
The above figure shows a parabolic reflector as a transmitter. As shown feed radiates power into a reflecting surface having a parabolic shape.
In a parabolic antenna, the reflector reflects microwave power along the antenna axis which is the direction of the beam.
Likewise, waves falling on the dish are concentrated towards the feed placed at the focal point of the dish.
This way receiver is carried out by the parabolic reflector antenna.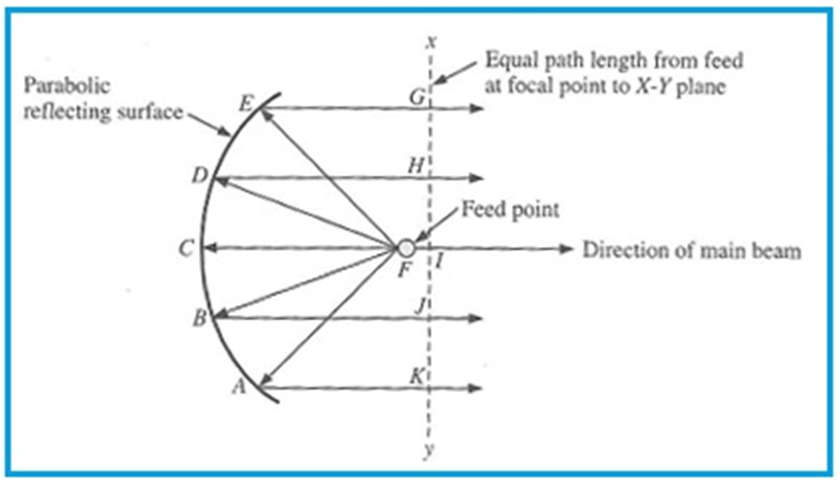 Advantages of Parabolic Reflector Antenna
It can be used both as a transmitting antenna and receiving antenna due to the principle of reciprocity.
The feed can be used in various modes with a parabolic reflector viz. center feed, Cassegrain feed, or offset feed. Each of these configurations has its respective benefits and applications.
Smaller size and low cost.
Disadvantages of Parabolic Reflector Antenna
Feed antenna and reflector disc block a certain amount of radiation from the main parabolic reflector antenna. This is about 1 to 2%.
The design of a parabolic reflector is a complex process.
Despite the feed horn at focus and uniform illumination, a certain amount of power from the feed is bound to slop over the edges of the parabolic reflector. This power is responsible to form side lobes in the radiation pattern.
Surface distortions can occur in a very large dish. This is reduced by using a wide mesh instead of a continuous surface.
To achieve the best performance results, the feed should be placed exactly at the focus of the parabolic reflector antenna. This is difficult to achieve practically.
Application of Parabolic Reflector Antenna
It is used in Direct broadcast or satellite television, Terrestrial microwave links, Satellite communications, and Radio astronomy.