It is antenna arrays that have been used to change the shape and direction of the radiation pattern without physically moving the antenna.
Elements in an antenna array are placed in such a way that the signals transmitted by individual antennas sum up and provide better gain, directivity, and performance in a particular direction.
This is achieved by transmitting signals of the same frequency from all the individual elements in the array but with a certain phase difference/shift between each antenna element in the array.
To Calculating the phase shift provide constructive interference in the desired direction while destructive interference may occur in other directions.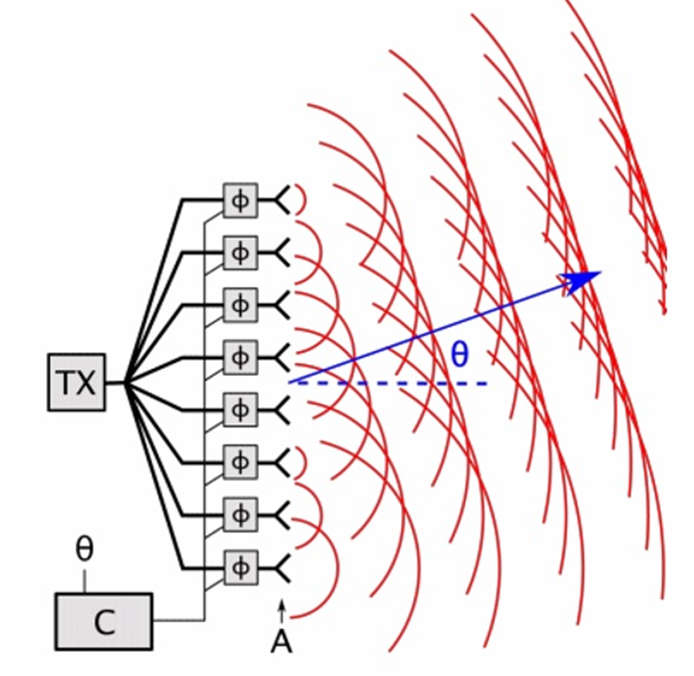 The transmitter sent the signal to the antennas via a phase shifter, which is controlled by a phase controller, that changes the phase electronically thus controlling the direction of the radiation pattern of the antenna array.
It consists of multiple smaller antennas whose number can range anywhere from a few antennas to somewhere in the hundreds or thousands.
Any sort of phased array antenna is functional because it superimposes two or more emitted signals that are phase dependent.
If the signals are in phase, they combine to create a signal with additional amplitude, but if they are in the opposite phase, they cancel one another out.
Two or more emitters are used in phased array antennas, and their phases are adjusted to provide the necessary reinforcement and cancellation in the desired directions.
One of these antennas can still offer a useful degree of gain and serve as the foundation for an antenna with properties comparable to a Yagi directional antenna even when there are only two emitters, such as two dipoles with a phase delay line between them.
The antenna would need to be physically rotated to change the direction in which the primary lobe of the antenna fires with antennas like these, which normally use a physical feed line that is cut to length to give the appropriate phase difference.
When there are more than two or three emitters in a multiple antenna or emitter phased array, the antennas are often fairly complex. Up to thousands of radiating components or emitters can be present, and in many of them, the primary beam of the antenna can be electrically guided by adjusting the phase of the radiating components.
Beam-steering, which involves electronically modifying the antenna's beam direction, is a crucial procedure.
Types of Phased Array Antennas
There are four commonly used Types.
Passive Electronically Steered Array (PESA)
Active Electronically Steered Array (AESA)
Digital Beam Forming (DBF)
Hybrid Beam Forming (HBF)
Applications of Phased Array Antennas
It is used for military applications for years.
The phased array antenna used in radar systems.
They are now used in broadcasting, space probe communication, weather research, optics, human-machine interfaces, etc.
Phased Array Antennas are also being used for new commercial wireless technologies such as 5G and the new Wi-Fi 6.