The Yagi antenna or aerial sometimes called the Yagi-Uda antenna is widely used for broadcast, domestic and commercial radio communications applications where gain and directivity are required from an RF antenna design.
The yagi uda antenna was invented in 1926 by Shintaro Uda of Tohoku Imperial University, Japan, with a lesser role played by his colleague Hidetsugu Yagi.
It is a directional antenna consisting of two or more parallel resonant antenna elements in an end-fire array these elements are most often metal rods acting as half-wave dipoles.
It consists of a single driven element connected to a radio transmitter or receiver through a transmission line.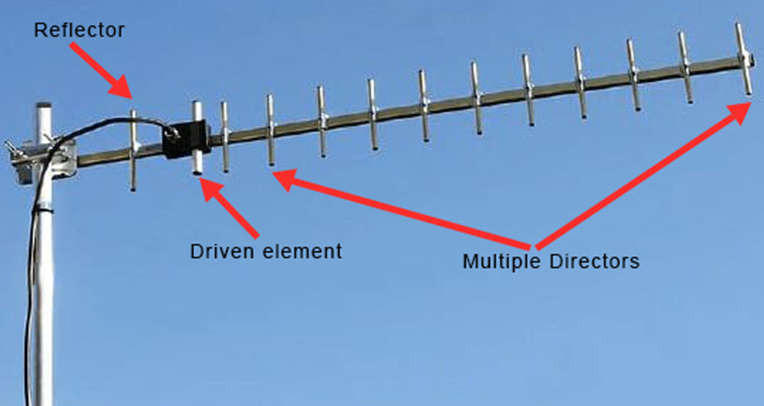 Working of Yagi Antenna
In the yagi uda antenna, there are 3 major elements are used that are generally a half-wave folded dipole, a reflector, and directors.
The yagi uda antenna structure contains one driven element and a reflector while directors can be more than one.
The yagi uda antenna arrangement is said to be an array of active and parasitic elements.
The metallic rod acts as the active element as external feeding is provided to it using transmission lines in the dipole.
The parasitic elements of the structure are the reflector and director.
The parasitic elements are also metallic rods placed parallel in the line of sight orientation w.r.t the driven element.
Although, when the dipole is excited using a transmission line then the current flows through the driven element and induces voltages in the parasitic elements.
The elements are mounted on a center rod, that acts as horizontal support.
The figure below represents the structure of the Yagi-Uda antenna.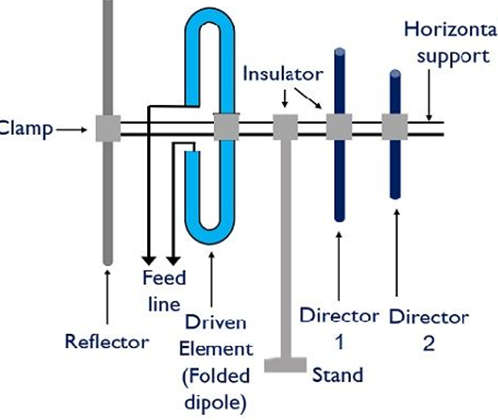 Radiation Pattern of Yagi-Uda Antenna
The given below diagram shows the radiation pattern of the Yagi-Uda antenna.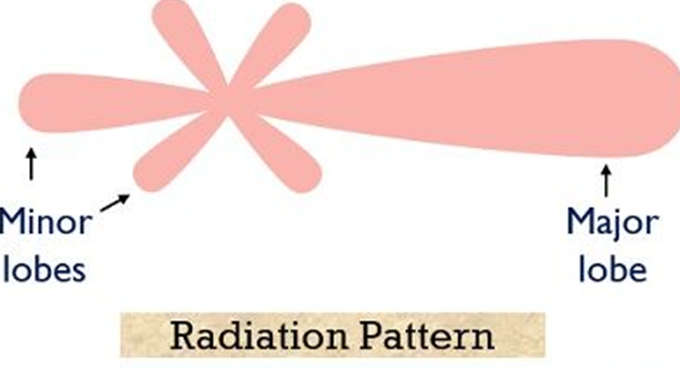 Advantages of Yagi Antenna
High gain is achieved.
The high directivity is achieved.
Ease of handling and maintenance.
Less amount of power is wasted.
Broader coverage of frequencies.
Disadvantages of Yagi Antenna
Prone to noise.
Prone to atmospheric effects.
Applications of Yagi Antenna
Mostly used for TV reception.
Used where a single-frequency application is needed.