The BC337 is a low-power NPN transistor that is commonly used in amplifier circuits. The BC337 has a maximum gain (hFE) of 630, a high collector current of up to 800mA, a good collector-emitter voltage of 45V, and a low base trigger voltage of 5V.
As a result, the BC337 is suitable for a wide range of general-purpose switching circuits. It is easily controlled by digital circuits such as microcontroller circuits due to its low base trigger voltage. In switching load applications, it can be replaced by 2N2222.
NPN transistors are those that have one p-type material sandwiched between two n-type materials. The NPN transistor amplifies the weak signal that enters the base and generates high-amplitude signals at the collector end.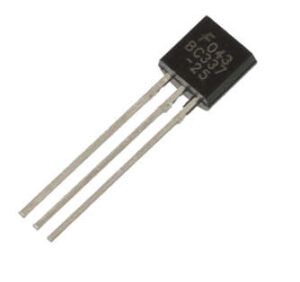 In an NPN transistor, an electron moves from the emitter to the collector region, causing current to flow through the transistor. This type of transistor is commonly used in circuits because its majority charge carriers are electrons, which have higher mobility than holes.
The BC337 is an NPN silicon BJT (Bipolar Junction Transistor). This small transistor can help your project by driving large loads, amplifying, or switching applications. The BC337 is rated at 50V and 800mA maximum.
This tiny TO-92 transistor is packed with useful features that make it suitable for use in a wide range of electronic circuits.
The maximum voltage allowed by this transistor from collector to emitter is 45V, which is a useful feature that makes it suitable for use in circuits requiring more than 24V.
Pin Configurations
The pin diagram of the BC337 NPN transistor is shown below.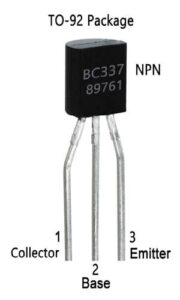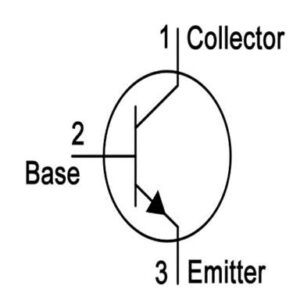 Collector – Current enters the collector, which is normally connected to the load.
Base – Controls the biasing of the transistor; used to turn the transistor ON or OFF.
Emitter – Current drains through the emitter, which is normally connected to ground.
Features and Specifications
NPN type of transistor.
800 mA Continuous Collector Current (IC).
45 V Collector-Emitter Voltage (VCE).
50 V Collector-Base Voltage (VCB).
5 V Emitter-Base Voltage (VBE).
625 W Collector Dissipation.
TO-92 is the package type.
100 MHz transition frequency.
Temperature range for storage and operation: -55 to +150 degrees Celsius.
hFE (DC Current Gain): 100 – 630.
Applications of BC337 Transistor
Audio amplifiers with low power.
Signal amplifiers for small signals.
Driver for audio frequency.
Stage of Amplifier Output.
Switching for general use.