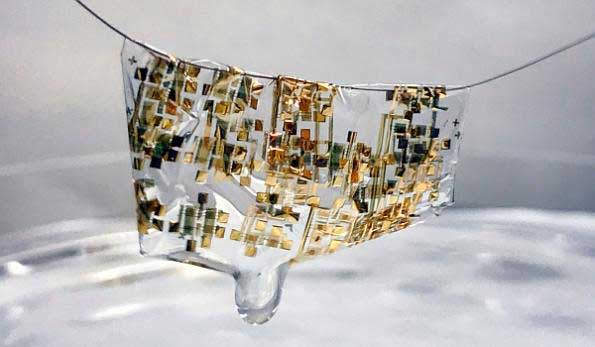 As electronics become increasingly pervasive in our lives – from smart phones to wearable sensors – so too does the ever rising amount of electronic waste they create. A United Nations Environment Program report found that almost 50 million tons of electronic waste got thrown out in 2017—more than 20 percent higher than waste in 2015.
Troubled by this mounting waste, Stanford University engineer Zhenan Bao and her team are rethinking electronics. The team created a flexible electronic device that can easily degrade just by adding a weak acid like vinegar. The results were published May 1 in Proceedings of the National Academy of Sciences.
In addition to the polymer – essentially a flexible, conductive plastic – the team developed a degradable electronic circuit and a new biodegradable substrate material for mounting the electrical components. This substrate supports the electrical components, flexing and molding to rough and smooth surfaces alike. When the electronic device is no longer needed, the whole thing can biodegrade into nontoxic components.
The team found that by tweaking the chemical structure of the flexible material it would break apart under mild stressors. "We came up with an idea of making these molecules using a special type of chemical linkage that can retain the ability for the electron to smoothly transport along the molecule," Bao said. "But also this chemical bond is sensitive to weak acid – even weaker than pure vinegar." The result was a material that could carry an electronic signal but break down without requiring extreme measures.
The researchers created the substrate, which carries the electronic circuit and the polymer, from cellulose. Cellulose is the same substance that makes up paper. But unlike paper, the team altered cellulose fibers so the "paper" is transparent and flexible, while still breaking down easily. The thin film substrate allows the electronics to be worn on the skin or even implanted inside the body.