A motor converts supplied electrical energy into mechanical energy. Various types of motors are in common use. Among these, brushless DC motors (BLDC) feature high efficiency and excellent controllability and are widely used in many applications.
How it works

The rotor of a BLDC motor is a permanent magnet. The stator has a coil arrangement as shown. A sensor determines the position of the rotor and based on this information the controller decides which coils to energize. Most often a Hall Effect sensor is used for this purpose. By applying dc power to the coil, the coil energizes and becomes an electromagnet. The operation of BLDC is based on the simple force interaction between the permanent magnet and the electromagnet. In this condition when coil A has energized the opposite poles on the rotor and stator are attracted to each other. As the rotor nears coil A, coil B is energized. As the rotor near coil B, coil C is energized. After that coil is energized with the opposite polarity. This process is repeated and the rotor continues to rotate. There is one drawback i.e only one coil energized. The two dead coils greatly reduce the power output of the motor. To overcome this problem, when the rotor is in position as shown in fig.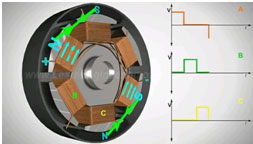 the first coil which pulls the rotor, we can energize the coil behind it in such a way that it will push the rotor. For this instant, the same polarity current is passed through the second coil. The combined effect produces more torque. And power output from the motor. The combined force also makes sure that BDC has a constant torque nature. With this configuration, two coils need to be energized separately but by making a small modification to the stator coil.
Advantage of BLDC
 BLDC is more reliable, more efficient, and less noisy
It is lighter compared to brushed motors with the same power output.
 Disadvantageof BLDC
The brushes in conventional dc motors wear out over time and may cause sparking. Thus the brushed dc motor should never be used for operations that demand long life and reliability.