Nordic's nRF52832 powers Confidex Viking Tough, a tamper-proof Bluetooth LE beacon enabling extended battery life in harsh environments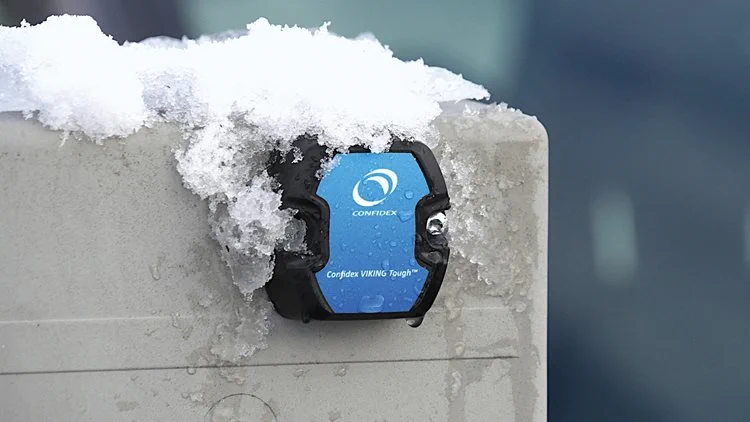 Nordic Semiconductor today announces that Tampere, Finland-based Internet of Things (IoT) solutions company, Confidex, has selected Nordic's nRF52832 Bluetooth® Low Energy (Bluetooth LE) multiprotocol System-on-Chip (SoC) for its 'Confidex Viking™ Tough' beacon. The solution is designed for rapidly building Industrial IoT (IIoT) applications and use cases requiring a Bluetooth LE beacon infrastructure, for example asset tracking/management, condition monitoring, or various real-time location services (RTLS) applications across different verticals including automotive, logistics, manufacturing, and mining.
Wide range of IIoT applications
Confidex Viking Tough weighs approximately 70g, comes in a 56 by 54 by 21.3mm form factor, and is fully enclosed in a polyurethane casting to ensure the device is extremely rugged (IP69K-rated) and qualified over the industrial –40º to 85ºC operating temperature range. This provides users with the ability to build demanding IIoT applications in harsh operating environments where harsh vibration and mechanical impact can typically impair traditional beacons. The industrial temperature range and radio sensitivity ensure the integrated nRF52832 SoC is an ideal device for a wide range of IIoT applications including asset tracking and condition monitoring. The nRF52832 SoC's 2.4GHz multiprotocol radio (supporting Bluetooth 5.2, ANT™, and proprietary 2.4GHz RF protocol software) offers a maximum receive (RX) sensitivity of -96-dBm and a maximum transmit (TX) output of +4-dBm, and a total link budget of >100dBm. The nRF52832 SoC also supports Bluetooth mesh and third party systems to provide mesh connectivity over an extended area in challenging industrial RF environments.
Confidex Viking Tough uses the nRF52832 SoC's powerful 64MHz, 32-bit Arm® Cortex® M4 processor with floating point unit (FPU) for algorithm data processing and powering the device's magnetic Hall-effect switch/sensor and built-in accelerometer, which is employed for collision detection and activity monitoring to analyze when a tag has been moving, or when an impact may have occurred with a high-value asset such as a container or vehicle.
Using the Bluetooth LE connectivity provided by the Nordic SoC, telemetry data and open format advertising packets by Google Eddystone or Apple iBeacon are sent directly from the Confidex Viking Tough device to a user's Bluetooth 4.0 (and later) smartphone or to a back-end system via a Bluetooth LE gateway. The NFC-A Tag integrated in the Nordic SoC enables secure commissioning and configuring of the parameters of the beacon via the 'Confidex Runestone™' Android app. In addition, the app's beacon scanner and Received Signal Strength Indicator (RSSI) graph aids deployment and calibration of TX power for proximity applications. In typical Confidex Viking Tough applications, Nordic's nRF52832 SoC runs in broadcasting mode where it is optimized for low power consumption and extended beacon lifetime. The Confidex Viking Tough is available as part of 'Quuppa Approved' and 'Wirepas Massive' mesh tag ecosystems.
Confidex Viking Tough uses two CR2477 (in total 1900mAh capacity) Li-Ion batteries providing around seven years of battery life in typical operation, thanks in part to the ultra low power characteristics of the Nordic SoC. The nRF52832 SoC has been engineered to minimize power consumption with features such as the 2.4GHz radio's 5.5mA peak RX/TX currents and a fully-automatic power management system that reduces power consumption by up to 80 percent compared with Nordic's nRF51 Series SoCs.
The nRF52832 SoC is supplied with Nordic's S132 SoftDevice, a Bluetooth 5-certifed RF software protocol stack for building advanced Bluetooth LE applications. The S132 SoftDevice features Central, Peripheral, Broadcaster and Observer Bluetooth LE roles, supports up to twenty connections, and enables concurrent role operation. Nordic's software architecture includes a clear separation between the RF protocol software and the Confidex's application code, simplifying development, and ensuring the SoftDevice doesn't get corrupted when developing, compiling, testing, and verifying their application code.
Radio performance and power consumption
"The key reasons we selected Nordic's nRF52832 SoC for Confidex Viking Tough were its radio performance and optimized power consumption enabling the battery-powered Bluetooth LE beacon to run for years without any need for maintenance," says Paul Broekhuizen, Executive Vice President – Smart Industries, Confidex Oy.
"Nordic's SoftDevice speeds up the firmware development process and shortens the time to market. In addition, the availability of Nordic's good technical support and development tools made the decision to use Nordic's technology easy."