When a resistor uses carbon film to limit the flow of electric current until a particular level it is known as a Carbon Film Resistor.

The symbol of this resistor is similar to that of the normal resistor.
Here, the carbon works as the resistive material.
Construction of a Carbon Film Resistor
A carbon film is deposited on a substrate of ceramic. This carbon film restricts the flow of the current of the resistor.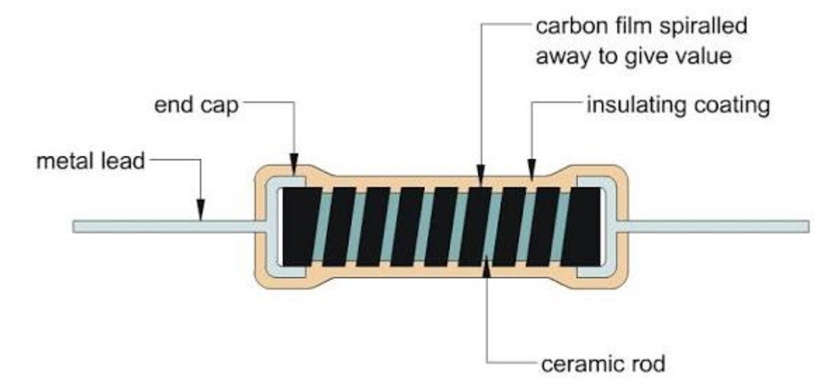 The Ceramic rod acts as a substrate and provides insulation to the resistor from electricity and high temperature.
The helical shape of the resistor helps receive precise resistance from the resistor. Thus, the resistance value can be adjusted by reducing helical path length.
An epoxy coat is provided to protect the resistor The end caps are connected to the metal lead wire which is mostly made up of copper metal.
These resistors have a higher(than normal resistors) negative temperature coefficient (NTC)  the resistance produced increases with a decrease in temperature. This is because it uses a pure carbon material.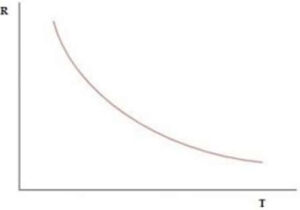 The resistance value can be determined by the thickness of the carbon film material.
specifications of Carbon Film Resistor
The power rating range is from 0.125 W to 5 W(at 70°C).
Resistance range from 1 ohm to 10 mega ohms.
The operating temperature ranges from −55 °C to 155 °C.
The maximum working voltage ranges from 200 to 600 volts.
Tolerance accessibility is ±2%, ±5%, ±10%, ±20%.
Max noise is 20 µV/V.
The temperature coefficient ranges from ±200 to ±1500 ppm/°C.
The voltage coefficient is 0.0005 %/V.
Max resistor temperature is 150 °C.
If we compare metal film resistor with carbon film resistor
Metal Film Resistor
Metal film resistor uses a thin metal film to restrict the flow of current.
As compared to carbon film resistors, these resistors have high accuracy and high stability.
These are small in size and less expensive.
Carbon Film Resistor
A carbon film resistor uses a thin carbon film to restrict the current flow.
These resistors have less accuracy as compared to metal film resistors and low stability.
These resistors are not small in size.
These resistors are expensive as compared to metal film-type resistors.