The GBD-H2000 employs Nordic's nRF52833 SoC to relay multiple sensor data outputs to smartphone app
Multinational electronics giant Casio has launched a new addition to its sports-inspired 'G-SQUAD' line in the 'G-SHOCK' family of shock-resistant watches. The lightweight, water-resistant 'GBD-H2000' provides support for a range of different activities including running, cycling, swimming, walking, gym workouts and interval training.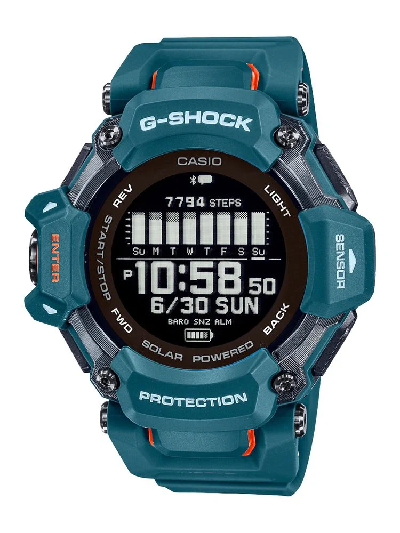 Bluetooth LE wireless connectivity and features
Equipped with Nordic Semiconductor's nRF52833 Bluetooth® LE SoC for wireless communication, the watch integrates GPS, an optical sensor to measure heart rate, as well as magnetic, pressure, thermo, accelerometer and gyroscope sensors to record activity data. Training and sleep analysis functionality is powered by Polar™ proprietary algorithms.
The Bluetooth LE wireless connectivity provided by the Nordic SoC not only allows the user to review their training and sleep analysis data via the 'Casio Watches' iOS and Android app, but also enables various notification functions (incoming calls, incoming emails, new social media posts, calendar notifications, reminders) as well as phone finding and automatic time adjustment.
Battery life was extremely important in our decision to use Nordic's nRF52833 SoC

Tetsuya Kawai, Casio
Maximizing power efficiency and battery life
In operation with continuous GPS and heart rate (HR) functionality, the GBD-H2000 offers approximately 16 hours battery life between recharge. When used in watch mode without HR monitoring or GPS, the GBD-H2000 offers approximately two months battery life while using notification functions and step count measurement. This extended battery life is in part thanks to the ultra-low power characteristics of the Nordic SoC. Nordic's nRF52833 has been engineered to minimize power consumption with features such as the 2.4 GHz radio's 5.5 mA peak RX/TX currents and a fully automatic power management system that significantly reduces power consumption.
"Battery life was extremely important in our decision to use Nordic's nRF52833 SoC," says Tetsuya Kawai, Executive Managing Officer, Casio. "Casio is also grateful to Nordic for its excellent support."
"Casio has always been a pioneer in watch technology and the launch of the GBD-H2000 continues that tradition," says Bjørn Åge 'Bob' Brandal, Nordic Semiconductor, VP of Sales and Marketing, Asia Pacific. "Today's consumers demand functionality from their watch, but they also want extended battery life. Alongside Casio's technology, Nordic's ultra low power wireless chips are uniquely able to meet this requirement."
"Casio is a key part of the heritage of Japan's technology sector since its foundation nearly 80 years ago," says Mitsuo Yamazaki, Nordic Semiconductor, Regional Sales Manager for Japan. "Japan has a rich technology tradition and it is an honor for Nordic Semiconductor to partner with Casio to extend this tradition further."
The GBD-H2000's case, bezel and band are made with bio-based resins, an environmentally-friendly material produced using raw materials from castor seeds and corn, helping promote the shift to circular economies and curb CO2 emissions.