This platform targets wastewater utilities worldwide and costs as little as one third of legacy GSM systems but adds industry-first intelligence and preventative real-time network monitoring capabilities. All that is required for deployment is the mass installation of battery-powered, wireless coffee-cup-sized radar wastewater level sensors. These are deployed below network manhole covers, a process that takes less than five minutes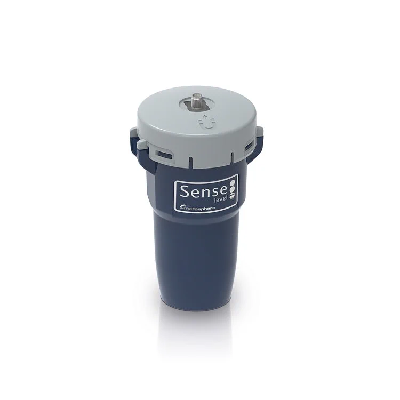 Nordic Semiconductor today announces that U.K. remote telemetry specialist, Metasphere, is employing a Nordic nRF9160 multi-mode NB-IoT/LTE-M System-in-Package (SiP) in every wireless sensor at the heart of Metasphere's revolutionary 'ART Sewer' wastewater and sewerage spill monitoring solution. This combines cellular IoT and AI/machine learning to protect freshwater and marine ecosystems in a way that Metasphere says hasn't been commercially or technologically viable before now.
ART (Analytical Remote Telemetry) Sewer adopts an all-in-one, turnkey approach whereby the entire solution has been built by Metasphere to deliver total network visibility, performance, and forecasting to wastewater utilities around the globe. All that is required for installation is Metasphere's battery-powered 'Contactless Sense Level IoT' coffee-cup-sized devices (12 x 5 cm diameter) to be positioned in volume below manhole covers in a wastewater network. Once a chamber has been located, the installation process is said to take less than five minutes.
In operation, each sensor makes a sample measurement of wastewater level using radar every 15 minutes and data is sent to Metasphere's data analytics servers once a day via either NB-IoT or LTE-M cellular IoT wireless technology.
We selected the nRF9160 SiP because it was the lowest power, most highly miniaturized, yet full featured and high performance cellular IoT device on the market field

Chris Fryatt, Metasphere
"Using AI and machine learning our platform combines historic, current, and forecast rainfall data plus ground saturation levels to proactively manage wastewater flow in sewers, pumping stations, manholes and Combined Sewer Overflows (CSOs), as well as detect partial sewer blockages," explains Metasphere CEO, Tim O'Brien. "This all combines to prevent flooding events with a speed and accuracy that wasn't possible until now."
"This enables wastewater utilities to prevent wastewater spills due to high level rain events, blockages, or collapsed or leaking pipes, far more effectively. It also enables maintenance crews to be scheduled and deployed in a far more optimized and less reactionary way. And ultimately this will have a hugely positive impact on reducing wastewater pollution from spills that find their way into freshwater and sea water and thus contaminate the natural environment. It will also help wastewater utilities to meet increasingly stringent environmental regulations worldwide, and to avoid or minimize the ever-increasing regulatory fines."
"We selected cellular IoT because it's the best LPWAN [Low Power Wide Area Network] technology for two-way communication which we required so that our sensing devices can be updated and re-configured remotely over-the-air," adds Chris Fryatt, Director of Product Management at Metasphere. "Cellular IoT also leverages all the security, reliability, and global ubiquity of cellular networks worldwide."
"And we selected the Nordic Semiconductor nRF9160 SiP because it was the lowest power, most highly miniaturized, yet full featured and high performance cellular IoT device on the market. This enabled us to not only achieve a five-year battery life for each wastewater manhole sensor, but also helped us to boost the cellular IoT signal penetration underground."