SparkFun Electronics' SparkFun Thing Plus employs Nordic's nRF9160 SiP to offer low power LTE-M/NB-IoT cellular IoT wireless connectivity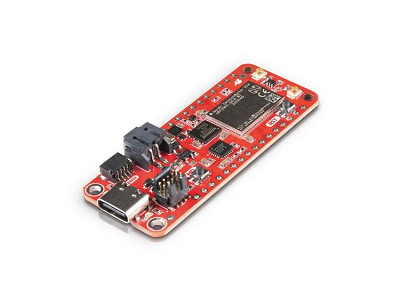 Nordic Semiconductor today announces that Boulder, CO-based SparkFun Electronics has selected Nordic's nRF9160 low power System-in-Package (SiP) with integrated LTE-M/NB-IoT modem and GPS to power its 'SparkFun® Thing Plus – nRF9160' development board. The 53 by 23mm development board is designed for prototyping and proof of concept of cellular IoT-based devices for a wide range of applications using Nordic's nRF Connect SDK (Software Development Kit).
Dedicated application processor
The nRF9160 SiP's 64MHz Arm® Cortex®-M33 dedicated application processor provides sufficient computational power to not only supervise the LTE-M/NB-IoT modem's cellular connectivity but also all other product functionality. The 1MB Flash and 256kB RAM supports fast response and complex application software, while 4 MB of external Flash allows developers to store data when working offline. In addition to the Nordic SiP, the development board includes SparkFun's 'Qwiic®' connect system, an ecosystem of over 150 I2C sensors, actuators, shields, and cables that make prototyping faster and less prone to error. All Qwiic-enabled boards use a common 1mm pitch, 4-pin JST connector that reduces the amount of PCB space required for designs.
SparkFun has also teamed up with Branford, CT-based electronic design company, Circuit Dojo, to make the development board pin-compatible with Adafruit Featherwing accessory boards. The Adafruit Featherwing boards enable developers to easily add functionality to their product design by stacking additional 'Wings' to the development board, for example enabling precision motion sensing or air quality monitoring applications.
nRF Connect SDK support
The development board supports Nordic's nRF Connect SDK. The nRF Connect SDK incorporates Zephyr RTOS which greatly reduces issues arising from firmware bugs or unforeseen events associated with embedded development of constrained, energy-limited and secure IoT products. It also offers flexible power options via Li-Poly battery, micro USB, and external power supply inputs. The nRF9160 SiP is optimized for low power operation, it supports both PSM and eDRX power saving modes, enabling it to sleep for longer periods of time. For both LTE-M and NB-IoT the PSM floor current is as low as 2.7µA, and with an eDRX interval of 655 seconds the average current is 6µA for LTE-M and 9µA for NB-IoT. With the modem switched off the current is 2.2µA.
The nRF9160 SiP is certified for global cellular IoT applications and comprises a multimode LTE-M/NB-IoT modem with integrated RF front end (RFFE), GPS, and power management in a compact package. The 64MHz processor includes the Flash and RAM memory, a range of analog and digital peripherals, automated power and clock management, Arm TrustZone™ for trusted execution, and Arm CryptoCell 310 for application layer security. The processor communicates with the LTE modem through a BSD secure sockets API and supports the application layer protocol (for example CoAP, MQTT or LWM2M) and the application itself. The nRF9160 SiP's LTE modem supports both SIM and eSIM, offers 700 to 2200MHz LTE band support, 23dBm output power, and single pin 50 Ω antenna- and UICC-interfaces. The LTE stack layers L1-L3, IPv4/IPv6, TCP/UDP, TLS/DTLS are part of the modem firmware.
"The combination of the Arm application processor paired with a cellular modem and GPS in a System-in-Package was the chief reason for using the nRF9160 SiP for the SparkFun Thing Plus development board," says Kirk Benell, Chief Technology Officer, SparkFun Electronics. "Also being a Nordic solution was a motivating factor behind the development of this board as Nordic's reputation for quality and product completeness, and its market position, made this a natural addition to our product portfolio."