China's signaling a tempering of its ambitions to become a global semiconductor power because it can't out-spend the likes of Intel Corp. in the short run, but it still intends to become a force in unclaimed fields such as the Internet of Things.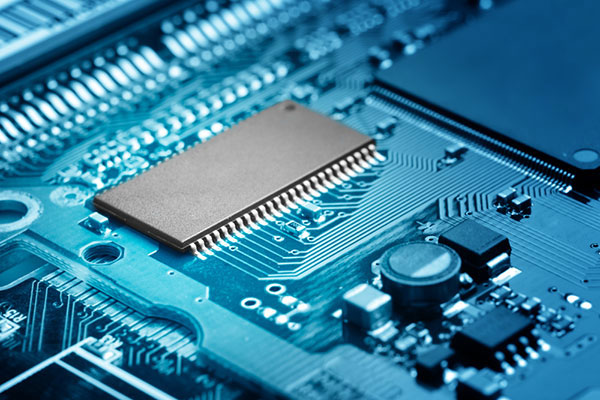 The country's "corner-overtaking" strategy simply isn't realistic, said Ding Wenwu, president of a $20 billion government-backed fund set up in 2014 to help lift the domestic chip sector out of obscurity. Ding, speaking at an industry forum, was using a racing term that refers to passing opponents at their most vulnerable.
China is trying to reduce a reliance on some $200 billion of annual semiconductor imports, which it fears undermines both national security and the development of a thriving technology sector. Overall, Beijing envisions spending about $150 billion over 10 years to achieve a leading position in design and manufacturing, an ambitious plan that U.S. executives and officials warn could harm American interests. Ding's China Integrated Circuit Industry Investment Fund Co. plays a key role by steering overall investment and strategy.
"It's very unrealistic to overtake on the corner given the current situation," Ding told his audience in Shanghai. "It's only possible when everyone is on the same starting line."
Money can't solve the problem either, he said. Intel, Samsung Electronics Co. and Taiwan Semiconductor Manufacturing Co. alone wield annual research budgets in the billions or even tens of billions of dollars.
"How can one overtake the front-runners when lagging so far behind? Not to mention the leaders are trying very hard to keep their position," he said.
Executives, academics and government officials converged on Shanghai this week to debate the future of their industry, convening one of the largest annual convocations of its kind. China's import dependency and the Internet of Things dominated the agenda.
The Ministry of Industry and Information Technology, the governing body for China's tech and telecoms sector, focused on smart devices and chip-laden sensors as well as automobiles, considered a fertile market as cars increasingly become connected and autonomous.
"We support innovations in areas such as smart devices, sensors, inter-connected smart vehicles and medical segments," Diao Shijing, director of the electronics bureau under the ministry, told the forum. "The integrated circuits industry, as the fundamental and most important sector, has been searching for directions so it won't miss new growth opportunities."
Leading China's charge into the next generation of microchips is Unigroup, an affiliate of the business arm of elite Tsinghua University that's become the largest player in a local market dependent on foreign high-performance processors and 3D-NAND memory chips.
Unigroup and other Tsinghua affiliates have pulled off a number of acquisitions over the years in pursuit of capacity and technology: Unigroup bought RDA Microelectronics Inc. and Spreadtrum Communications Inc. to beef up its design capability, and signed partnership deals with global players including Western Digital Corp.
The company's major business units and affiliates include integrated-circuit developer Unigroup Guoxin Co., formed via a series of mergers of state-backed entities. And its $2.8-billion Changjiang Storage was the result of a merger between Unigroup's own memory chip operations and a government-run factory in 2016.
But that M&A spree has hit a wall of late. Tsinghua was forced to withdraw a planned investment in Western Digital after the deal threatened to invite U.S. government scrutiny, while a Taiwanese acquisition attempt fell through. Now, China itself is discouraging unfettered overseas acquisitions, worried about capital outflow. That further threatens to stifle one avenue through which the country can swiftly acquire technological cred.
"The overseas acquisition environment is now complicated," Ding said without elaborating.