After narrowly missing out on entering IHS Markit's top 10 for 2016 and first-quarter 2017, Nationstar (whose primary markets are lighting and signage) has broken into the top-10 ranking for packaged LED firms for Q2/2017, according to the latest 'LED Supply & Demand Market Tracker' of market research firm IHS Markit. Located in Foshan in Guangdong province in southern China near Guangzhou, Shenzhen, and Hong Kong, Nationstar's packaged LED revenue was $112m in Q2/2017, up 48% on Q1. While strong Q2 growth is common from Chinese companies (given the low first quarter due to Chinese New Year), Nationstar's Q2 revenue was also 48% above Q2/2016. It now appears likely that Nationstar will also finish full-year 2017 inside the top 10.
MLS growth fueled by lighting and signage
Nationstar joins MLS in the top 10, which was the first company from mainland China to enter the top 10 in 2013. After its very strong 2013, MLS saw only modest growth from 2013 to 2015, but grew very strongly in 2016 to reach a new high of 6th place. Like Nationstar, MLS does not have much business in backlighting or automotive, but is seeing growth fueled by lighting and signage sales. In Q2/2017 it recorded $247m in revenue, and was ranked 4th.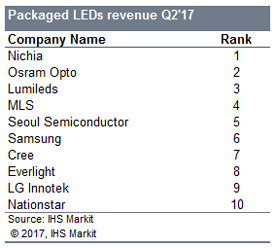 MLS's 2017 revenue is now set to roughly double its 2013 revenue. Furthermore, it has a chance this year to become only the fifth supplier in history to achieve $1bn in packaged LED sales in a single year (the others being Nichia, Osram Opto, Lumileds, and Samsung).
Rise of Chinese companies in LED market
In addition to MLS and Nationstar, many other players are active in the China market. Hongli, Jufei, Shenzhen MTC and Refond are estimated to be the next largest. There are also many smaller LED suppliers in China.
The rise of Chinese vendors in the LED market is not limited to the LED vendors themselves. This year, metal-organic chemical vapor deposition (MOCVD) suppliers AMEC and TOPEC have seen a sharp increase in sales to become the first companies to seriously challenge the long-standing dominance of Germany-based Aixtron and USA-based Veeco. The current IHS Markit quarterly report tracking the LED market (issued in September) also includes the MOCVD rankings and shares for 2016 and 2017 (annual and quarterly).
New production equipment continues to be added in China, showing that the Chinese competition is here for the long term and will continue to grow in the future, says IHS Markit.
Threat to others
Many Western and Japanese LED companies do not yet encounter Nationstar as a major competitor, because most of its sales are within China. However, the rise of Chinese companies is, in general, making the competitive environment tougher for other suppliers that are struggling to match the low pricing in lighting and other applications, says IHS Markit.
Western, Korean and other vendors are now increasingly looking to alternative markets such as automotive, horticulture and ultraviolet (UV) LEDs, the report adds. Alternatively, tier-1 vendors are able to differentiate themselves with intellectual property, product quality, or specific technology (such as chip-scale packaging).