WALTHAM, Mass. – July 5, 2022 — C&K, a leading manufacturer of high-quality electromechanical switches, has extended its keyswitch product family to include a 12N illuminated switch. The surface-mount K12S 12N keyswitch expands upon the popular and robust K12S switch series, with a first to market solution. Delivering more than 1-million actuation cycles, the K12S Series addresses the growing need for high performance and brightly illuminated switch solutions for high-volume industrial and automotive manufacturing.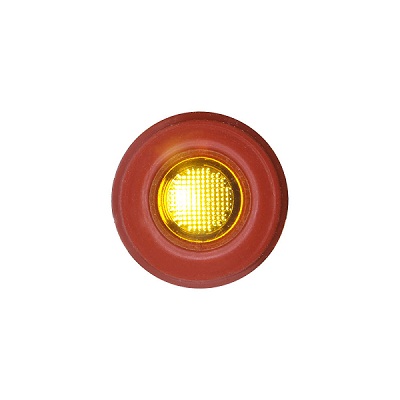 By employing an advanced material that provides better transparency while withstanding high reflow temperatures, C&K has enhanced the luminosity of the K12S Series switches, with a choice of seven standard LED colors to accommodate specific customer application requirements.
The K12S Series keyswitches include a IP67 sealed version for use in outdoor applications such as automotive door locks, trunk openers, motorbike handles and other environments likely to encounter harsh conditions. An IP40 version of the switch is available for less demanding environments.
For applications like motorcycle controls, this product has been tested and adapted to ride/use with gloves on. Ride in confidence that even if you lay down your bike by accident, the robust design of the K12S will withstand overload of 100N in addition to abuse proof contacts. K12S offers both performance and piece of mind when riding down the road.
C&K offers the K12S Series switches in DPST, dual-contact versions with a double-step actuation of 6/12N.
"With the growing demand in brightly illuminated switches, K12S delivers performance and practicality for your design," explained Cedric Garropin, Product Manager at C&K. "By configuring different combinations of spring mechanisms and cam designs, we are able to customize the switches' travel distance, actuation force, and contact position to meet a variety of different customer requirements within the same form factor."
The entire line of K12S Series keyswitches feature gold-plated, self-cleaning contacts with low contact resistance (<100mΩ), 100N overload resistance and life cycles of 1,000,000. The switches' low PCB-mounted profile makes them ideal for mechatronics design engineers to integrate into complex sub-assemblies requiring precise control for joysticks, remote controls, vehicle cabins and forklift/crane controls. In the DPST configuration, the K12S Series meets safety requirements for demanding applications in medical, military, avionics or industrial equipment.
For more information on C&K's new K12s 12N series keyswitches, including details and specifications, click below: https://www.ckswitches.com/products/switches/product-details/Keyswitch/K12S/