Coaxial cable is a type of transmission line, used to carry high-frequency electrical signals with low losses.
It is used in such applications as telephone trunk lines, broadband internet networking cables, high-speed computer data busses, cable television signals, and connecting radio transmitters and receivers to their antennas.
It differs from other shielded cables because the dimensions of the cable and connectors are controlled to give a precise, constant conductor spacing, which is needed for it to function efficiently as a transmission line.
Due to the cable shielding, electric and magnetic fields external to the cable does not interfere with signals inside the cable. Having this characteristic makes coax highly suitable for transmitting electrical signals that are either intolerant of being interfered with by stronger external electrical signals or where external radiation of these signals may cause interference with co-site signals.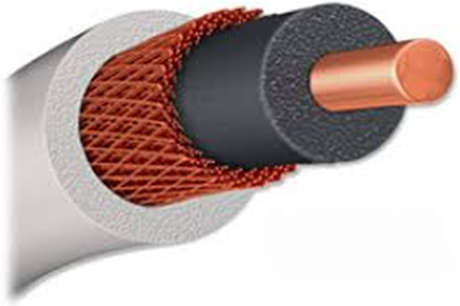 Coaxial cable is used as a transmission line for radio frequency signals.
Signals within the normal operating bandwidth of coaxial cable have a field configuration known as transverse electric and magnetic (TEM).
In the TEM mode, the electric field lines go radially between the center and outer conductor and are of uniform strength around a cross-section of the cable, whereas the magnetic field lines are circular and perpendicular to the length of the cable.
This allows coaxial cable runs to be installed next to metal objects such as gutters without the power losses that occur in other types of transmission lines. Coaxial cable also protects the signal from external electromagnetic interference.

Centre Conductor
The center conductor of the coax is almost universally made of copper. Sometimes it may be a single conductor whilst in other RF cables, it may consist of several strands.
Insulating Dielectric
Between the two conductors of the coax cable there is an insulating dielectric. This holds the two conductors apart and in an ideal world would not introduce any loss, although it is one of the chief causes of loss in reality. This coax cable dielectric may be solid or as in the case of many low-loss cables, it may be semi-airspace because it is the dielectric that introduces most of the loss. This may be in the form of long "tubes" in the dielectric, or a "foam" construction where air forms a major part of the material.
Outer Conductor
The outer conductor of the RF cable is normally made from a copper braid. This enables the coax cable to be flexible which would not be the case if the outer conductor was solid, although in some varieties made for particular applications it is.
Features of Coaxial Cables
Higher bandwidth.
Possible radio frequency or electromagnetic interference.
Sturdy connection.
Advantages of Coaxial Cables
Higher bandwidth means theoretically superior sound quality, but most won't notice a difference.
Sturdy, harder to detach from inputs.
Applications of Coaxial Cables
Domestic Radio & Television:
Domestic televisions and some VHF FM or digital radio solutions sometimes have external antennas. These antennas need to be connected to the TVs or radios via a coaxial cable/feeder.
Commercial Radio Communications:
Coax feeder is used within commercial radio communications systems. Like all other RF feeders used in professional applications, a standard of 50Ω has been adopted for the characteristic impedance.
Broadcasting:
It is necessary to transfer the transmitter signal from the transmitter to the antenna. With many broadcast transmitters being high-powered the coax feeder used must be able to withstand these power levels.
Satellite Antennas:
It is not unusual to see sets of satellite antennas used for sending information up to satellites (this is apart from the direct broadcast satellites for domestic installation).
These satellite antennas need to be fed and one of the ways that are often used is a coaxial feeder. Given the frequencies, a low loss cable is required.
Its applications include feedlines connecting radio transmitters and receivers to their antennas, computer network (e.g., Ethernet) connections, digital audio (S/PDIF), and distribution of cable television signals.