Hoofddorp, Netherlands: Leading electronics manufacturer Murata has further strengthened its portfolio of state-of-the-art wireless communication modules.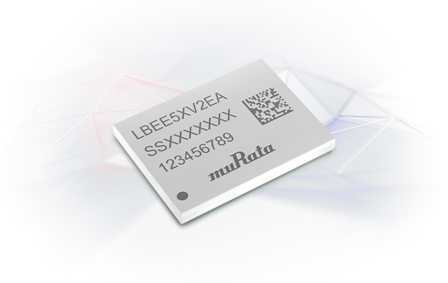 The company's new LBEE5XV2EA solution leverages an Infineon CYW55573 system-on-chip (SoC). As well as supporting 2.4GHz and 5GHz operation, the module can also transmit/receive data in the 6GHz frequency band too. Thanks to this, customers will not be limited to already overcrowded areas of the RF spectrum, but can benefit from access to frequencies that are much less congested.
Complementing its 6GHz Wi-Fi 6E attributes, the LBEE5XV2EA also has Bluetooth 5.3 functionality built into it. This includes LE Audio, which enables enhanced audio quality to be derived while reducing the associated power budget.
20/40/80MHz channels are all incorporated into the module, with 1024-QAM modulation and a 2×2 MIMO antenna arrangement. Consequently, heightened levels of data throughput can be attained – reaching up to 1.2Gbps. Key applications include audio/video streaming, video conference systems, plus virtual reality (VR) and augmented reality (AR) equipment.
As the LBEE5XV2EA relies on Murata's own high-performance components, it has a better optimised design than competing Wi-Fi 6E solutions from other manufacturers. This enables it to be significantly smaller (having dimensions of just 12.5mm x 9.4mm x 1.2mm) and easy to install.
Availability of FCC/IC and TELEC certification, along with conductive tests for CE, make the standards compliance process much more straightforward. This means that less engineering resources need to be devoted to it, with time and cost advantages being derived.