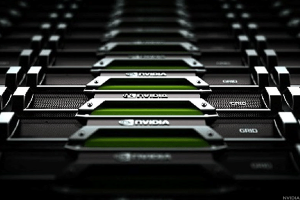 With technology stocks on fire this year, Jim Cramer decided to go Off the Charts with Bob Lang to take a closer look at the semiconductor sector.
Lang is the founder of ExplosiveOptions.net and is a contributor to TheStreet.com's Trifecta Stocks newsletter.
Lang noted that the the VanEck Vectors Semiconductor ETF (SMH) is up 1,200% since the 2009 lows, dwarfing the gains in the S&P 500 over the last 8 years. That suggests that there are more semiconductor companies besides NVDIA (NVDA – Get Report) which are performing well.
Cramer and Lang started with a chart of Intel (INTC – Get Report) , the old guard chipmaker. Shares of Intel shot higher a month ago, and the stock's now at its highest levels since the dot-com collapse in 2000, according to Lang. The stock's strength has brought much of the semiconductor index with it.
And the Chaikin Money Flow Oscillator, a measure of buying or selling pressure in a stock, turned from negative to positive three weeks ago and has surged since. That tells Lang that big institutional buyers are piling into the stock. Lang also notes that turnover has been strong, with shares up 20% since Intel's last earnings report, a very large move for a company with a big market capitalization, such as Intel. The company reports next week, setting up the possibility for a decline given the big run shares have already seen. Cramer says if that happens, it should be treated as a buying opportunity.
Not all semiconductor stocks have been performing well. Qualcomm (QCOM – Get Report) , which makes communication chips and the software used in a lot of cell phone technology, has repeatedly disappointed bulls this year. But that may be about to change.