XP-G3 LED doubles maximum light output and delivers wall-plug efficiency of up to 81 percent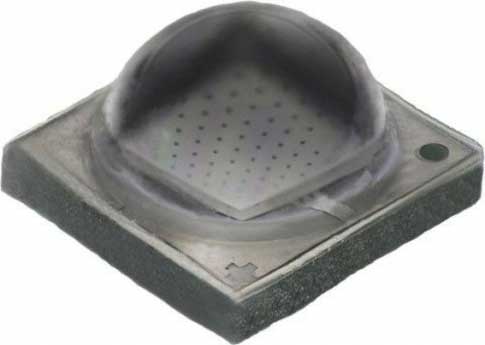 Cree has announced the new XLamp XP-G3 Royal Blue LED, what is says is the industry's highest performing Royal Blue LED.
The new XP-G3 LED doubles the maximum light output of similar size competing LEDs and delivers breakthrough wall-plug efficiency of up to 81 percent.
Using the new XP-G3 Royal Blue LED and the recently introduced XP-E High Efficiency Photo Red LED, Cree has created a new horticulture reference design that achieves a Photosynthetic Photon Flux (PPF) efficiency of up to 3.2 μmol/J at steady-state, which is over 50 percent more efficient than the traditional high pressure sodium solutions in use today.
The XP-G3 Royal Blue LED delivers up to 3402 mW radiant flux, which corresponds to 13 μmol/s PPF, at its 2A maximum current and 85 C junction temperature.
"Our newest horticulture-optimized products help lighting manufacturers push LED horticulture systems into mainstream use," said Dave Emerson, Cree LEDs senior vice president and general manager.
"Cree's high power LED technology provides the best combination of photon output, efficiency and reliability to drive the replacement of outdated high pressure sodium lights with LED lighting solutions that minimise power consumption and maximise crop yield."
The XP-G3 Royal Blue LED is built on Cree's ceramic high-power technology, which can deliver excellent lifetimes even at the extreme temperature of 105degC. Additionally, horticulture lighting manufacturers can immediately take advantage of the existing ecosystem of drivers and optics proven to work with Cree's other 3.45 mm footprint XP products to shorten their time to market.
Product samples of the new XP-G3 Royal Blue LEDs are available now and production quantities are available with standard lead times.