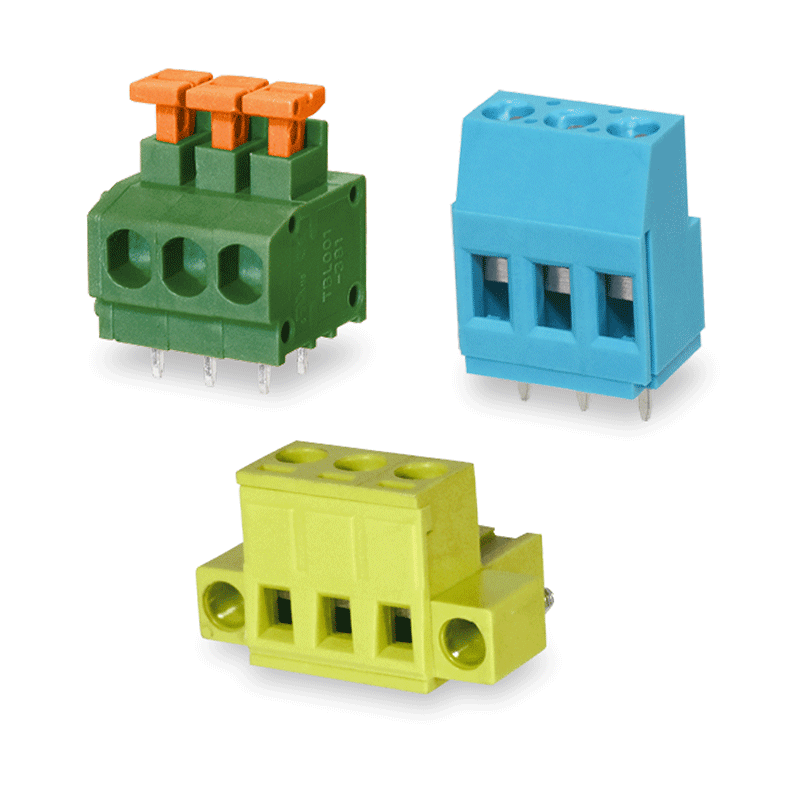 TUALATIN, Ore. — June 18, 2019 — CUI's Interconnect Group (https://www.cui.com/catalog/interconnect) today announced the addition of terminal block connectors (https://www.cui.com/catalog/interconnect/connectors/terminal-blocks)to its existing line of connector products.(https://www.cui.com/catalog/interconnect/connectors)  Featuring up to 24 pole counts, the terminal blocks come available in pluggable, screw type, and screwless configurations with 2.54, 3.50, 3.81, 5.00, 5.08, and 7.62 mm pitches. These terminal block models also offer horizontal, vertical, 45°, and 180° orientations, making them ideal for lighting systems, commercial building equipment, industrial controls, and any wire-to-board application requiring quick wire termination in the field.
Accommodating 28 up to 10 AWG wires, all terminal block series include blue, green, orange, yellow, gray, and black color options, along with an additional white color option for the push button on the screwless versions. The terminal blocks carry UL current ratings from 2 to 30 A and IEC current ratings from 5 to 32 A as well as UL voltage ratings of 150 and 300 Vdc and IEC voltage ratings from 130 to 630 Vdc. With operating temperature ranges from ‑40 up to 105°C, all models further comply with RoHS and the UL94V-0 flammability rating.
CUI's terminal block connectors are available immediately with prices starting at $0.16 per unit at 1000 pieces through distribution. Please contact CUI (https://www.cui.com/contact) for OEM pricing.