Under the assumption that all physical parameters and temperatures remain constant, Ohm's law asserts that the voltage across a conductor is directly proportional to the current flowing through it.
V = IR
where,
V = voltage,
I = current,
R = resistance.
Ohm's Law is a formula used to calculate the relationship between voltage, current, and resistance in an electrical circuit.
When a conductive path is made to enable continuous movement of electric charge, an electric circuit is produced. A current is the continuous passage of an electric charge through the conductors of a circuit; it is frequently referred to as a "flow," as a liquid might travel through a hollow pipe.
Voltage is the driving force for charge carriers to "flow" in a circuit. A specific measurement of potential energy, called voltage, is always relative to two other places.
The measurement of the potential energy required to shift charge carriers from one specific location in the circuit to another specific position is what is meant when we say that a given level of voltage is present in a circuit. The term "voltage" has no meaning outside of two specific places.
There is usually considerable resistance to motion as the current flows through the conductors. It is more appropriate to refer to this resistance as opposition to the motion. The voltage and resistance in a circuit that prevents current flow determine how much current flows through it.
Analyzing Ohm's Law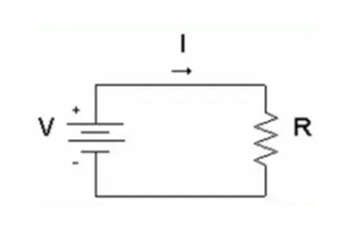 Voltage (V=12v) and resistance (R=6) are known.As we know V = IR, I = V/R

I = V/R = 12V/6Ω = 2A

Voltage (V=24v) and Current (I=6A) are known.As we know V = IR, R = V/I

R = V/I = 24V/6A = 4Ω

Current (I=5A) and resistance (R=8) are known.As we know V = IR,

E = I x R = (5A)(8Ω) = 40 V