13th April 2021 – Recognized specialist in advanced power management ICs (PMICs) for energy harvesting e-peas is further strengthening its commercial presence. The company has entered into a distribution partnership with Steliau Technology. This will cover the French and Italian regions.
Drawing on almost twenty years of industry experience, Steliau supplies end-to-end connectivity solutions to its expansive customer base. The company's multidisciplinary team is highly adept at supporting a wide variety of different types of IoT-related deployment. These go from smart homes and electronic shelf labels through metering, industrial automation, environment monitoring, asset tracking and lighting management systems, all the way up to large-scale smart city implementations.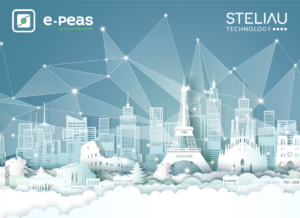 e-peas' AEM Series PMICs supervise the extraction, storage and delivery of harvested energy. Covering photovoltaic, vibration, thermal and RF based harvesting methods, they will complement Steliau's established ecosystem. Working in conjunction with the wide range of wireless modules (WAN, LPWAN and cellular IoT) that the company offers, these devices will enable the power derived from the surrounding environment to be maximized.
"We see a great deal of potential for inclusion of the PMICs from e-peas in our customers' products and installations. The low thresholds at which these devices can start operating is a clear differentiator, bringing major operational advantages to any system which is reliant on energy harvesting," states Pascal Reynoud, Steliau France's General Manager. "In addition to being specified into new hardware designs, there are also opportunities for the e-peas PMICs to be retrofitted into existing deployments."
"Steliau's reputation as a provider of cutting-edge IoT technology and the application knowledge that its staff have built up, combined with our PMIC ingenuity, mean that this distribution partnership will be hugely beneficial to both parties, as well as to the French/Italian/Spanish market too," adds Luc Engrand, European Sales Director at e-peas. "Through it, e-peas will be able to gain greater momentum as a business – getting involved in a multitude of new projects where fully efficient energy autonomy is going to be mandated."