https://www.semiconductorforu.com/enhancement-type-n-channel-mosfet/Enhancement mode:
When the gate voltage is negative with respect to source, the depletion type MOSFET (metal oxide semiconductor field effect transistor) operates with an enhancement mode.
Construction:
The main difference between the depletion type MOSFET and enhancement type MOSFET are shown in below figure where as the E-MOSFET substrate extends all the way to the silicon dioxide (SiO2) and there is no channels are doped between the source and the drain. The channels are electrically induced in these MOSFETs, when a positive gate source voltage VGS is applied to it.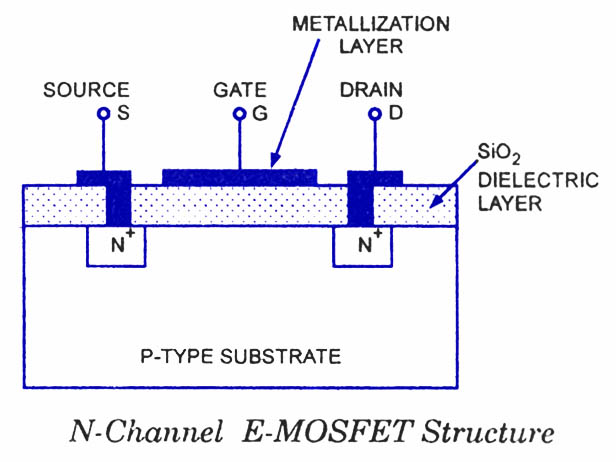 The construction of N channel enhancement type MOSFET (metal oxide semiconductor field effect transistor) is shown in above figure. On a lightly doped P type substrate, two heavily doped N regions separated by about 25 µm are diffused. These N regions will act as a source and drain. A thin layer of insulating SiO2 is developed over this surface and holes are cut into the oxide layer through which aluminum contacts for the source and the drain are made. A conducting layer of aluminum which will act as gate is overlaid on SiO2 over the entire channel region. The construction of enhancement type N channel MOSFET is different from the depletion type MOSFET in the sense that it has no physical channel. It may be noted that the P type substrate extends the SiO2 layer completely.
The circuit symbol of N channel enhancement type MOSFET are given below,