Now that Europe is entering the heat of summer, news is a little slow because everyone is clearing their desks so they can spend August in Italy (the Italians go somewhere else).
Summer in Europe means beer and wine festivals abound, and even a routine visit for a press meeting and business chat turns into a sidewalk experience.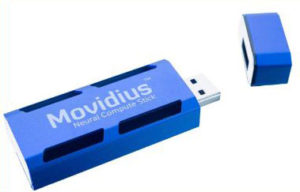 Having said that, there are still some pretty interesting things going on this week. Artificial intelligence (AI) is getting very hot, but the related hardware can be bulky and power-hungry. RS Componentsannounced it will start selling the Intel Movidius Neural Compute Stick, the newest development tool for ultra-low-power deep-learning inference.
The tool enables developers to develop and prototype AI applications to a broad range of devices at the edge in a convenient USB form factor. Supporting the Caffe Deep Neural Network (DNN) framework, the Neural Compute Stick is ideal for use as a development tool for neural network prototyping and acceleration.
In the area of wide-bandgap semiconductors, which is really starting to gain traction, GaN Systems closed an investment round led by BMW's investment arm, BMW i Ventures. The investment will be used to expand global sales and accelerate new product development. BMW i Ventures joins the existing investors: BDC Capital, Chrysalix Venture Capital, Cycle Capital Management, RockPort Capital and Tsing Capital. Gallium Nitride-based transistors a powerful enabler in power density and miniaturization. GaN-based systems can be one fourth of the size while providing better efficiency than traditional silicon-based alternatives.
On the business side, Mouser Electronics has received a Gold TDK Distribution Award from TDK Europe. Mouser achieved the highest score in the High-Service Distribution category, in recognition of the global distributor's strong growth and excellent inventory. Earlier this year, Mouser also received a sales achievement award for Highest Percentage Sales Growth for fiscal year 2017 from TDK Corporation of America.
Mouser also recently saw a car they sponsor, Vaillante Rebellion No. 31 car, piloted by Filipe Albuquerque, Bruno Senna and Julien Canal, lead the pack in the first hour and secure a second place win in the LMP2 class at Nürburgring. Vaillante Rebellion's No. 13 car, driven by Pipo Derani, Mathias Beche and David Heinemeier Hansson, followed closely to place fourth in the class. Mouser partnered with LEMO, a leader in the design and production of precision custom connection solutions, to sponsor Vaillante Rebellion for the entire 2017 FIA World Endurance Championship season.