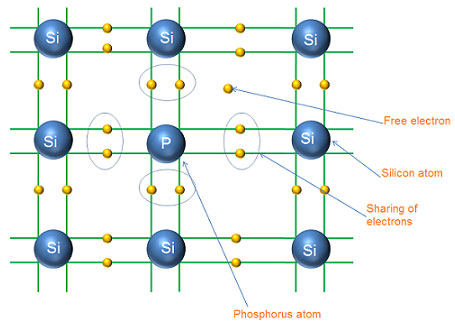 We have already know that an intrinsic semiconductor has a negligible conductivity at room temperature. Therefore, it is of little practical use and not of any other practical significance at room temperature. In order to make the intrinsic semiconductors to be more practically useful, their electrical conductivity have to be increased by adding a certain amount of desired impurity atoms to it. The resulting semiconductors are called extrinsic semiconductors. The process of deliberately adding or diffusing impurity atoms to the intrinsic semiconductor crystal is called doping.
Doping is done after the intrinsic semiconductor material has been refined to a high degree of purity. The impurity atoms used for doping are called dopants. Generally, the impurities are added at the rate of only one atom of impurity per 108 to 1010 intrinsic semiconductor atoms. This disturbs the balance between free electrons and holes in an intrinsic semiconductor at room temperature and it may result in a number of free electrons larger than that of holes or vice versa depending upon the type of impurity atoms used in doping of the intrinsic semiconductor crystals.
The purpose of adding impurity is to increase either the number of free electrons or holes in the semiconductor crystal i.e. to increase the conductivity of the intrinsic semiconductors. Generally, two types of impurity atoms namely trivalent and pentavalent are added to the intrinsic semiconductor is called an extrinsic semiconductor.
Types of extrinsic semiconductor:
1) P type extrinsic semiconductor
2) N type extrinsic semiconductor