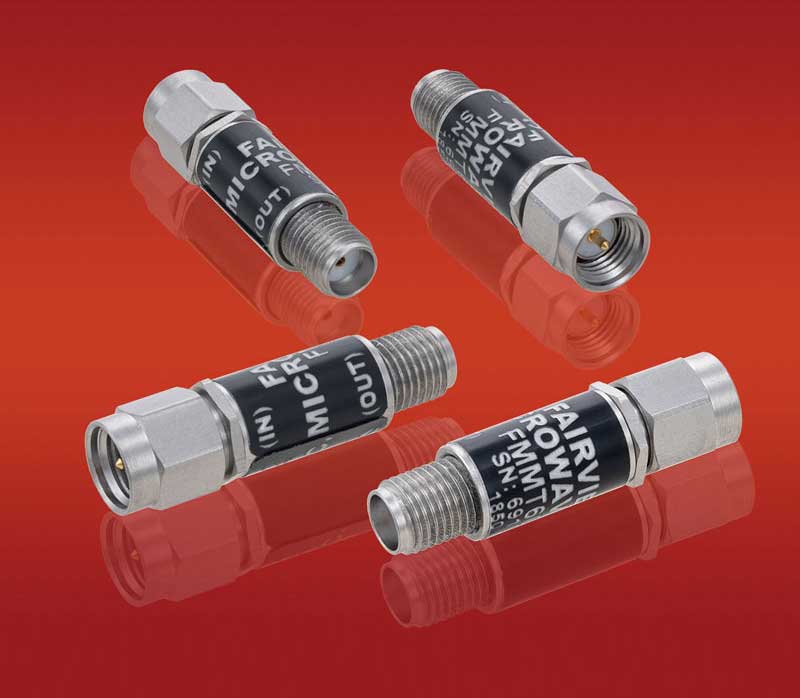 New Tunnel Diode Detectors Exhibit Fast Pulse Response Risetimes and Cover Frequencies from 100 MHz to 26 GHz
IRVINE, Calif. (August 6, 2019) – Fairview Microwave Inc., an Infinite Electronics brand and a leading provider of on-demand RF, microwave and millimeter wave components, has released a full line of coaxial-packaged tunnel diode detectors that are available with no Minimum Order Quantity (MOQ) and same-day shipping. These detectors are ideal for proof-of-concept and prototype applications for military and commercial radar, aerospace and defense, SATCOM, test and measurement applications, and more.
Fairview's new comprehensive product line consists of 26 tunnel diode detector models that operate over octave and broadband frequencies ranging from 100 MHz to 26 GHz. These zero biased designs feature rugged, germanium planar construction and are available in both positive and negative video output polarities. They deliver excellent dynamic range with very efficient low-level signal detection, plus an exceptionally fast pulse response risetime of 5 nsec typical. These detectors have maximum input power handling of +17 dBm and exhibit a flat video output response across wide frequency bands over a maximum temperature range of -65°C to +115°C. All models are RoHS and REACH compliant and available in compact cylindrical packages that feature an SMA male RF input connector and an SMA female video output connector.
"This new comprehensive line of tunnel diode detectors covers a variety of applications and is ideal when fast and sensitive power detection capability is needed. Plus, these designs are offered with detailed datasheets, applications support and same-day shipping with no MOQ required," said Tim Galla, Product Manager.
Fairview's new tunnel diode detectors are in-stock and ready for immediate shipment.
For detailed information on these products, please visit https://www.fairviewmicrowave.com/rf-products/tunnel-diode-detectors.html?utm_source=Fairview&utm_medium=pressrelease&utm_campaign=tunnel_diode_detectors_2019
For inquiries, Fairview Microwave can be contacted at +1-972-649-6678.