In booth A1.110 at the Intersolar Europe 2017 exhibition in Munich, Germany, Flisom AG of Zurich, Switzerland – in which Tata Industries of the $103bn Tata group is a strategic investor and the Swiss Federal Laboratories for Materials Science and Technology (Empa) is a technology partner – is unveiling its new product range, including eMetal, eFlex and eRoll products.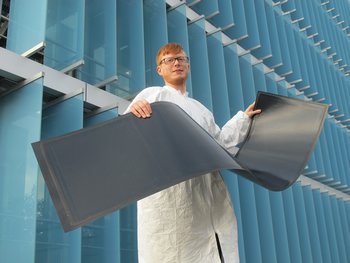 Flisom has spent over a decade developing high-efficiency copper indium gallium selenide (CIGS) thin-film solar modules using proprietary roll-to-roll manufacturing technologies.
Flisom's products are based on the technology developed by its research partner Empa, which has achieved record conversion efficiency of 20.4% in a flexible CIGS solar cell.
Flisom modules are less than 2mm thick, are ultra-light (under 500g/m2 for some versions) with a power-to-weight ratio of up to 20 times more than conventional silicon panels, and are strong, safe and rollable.
Flisom says that, unlike competitors, it offers not only its standard portfolio of modules but also its technology as a business-enabling platform (which is customizable for end-users' applications) and the modules are designed and manufactured in house.
Gearing up for full commercialization of its product range this year, Flisom says that it is focused on enabling solar technology for applications including buildings, mobility and transport, as well as specialist customized applications, across Europe and the USA.