eMobility partners in conversation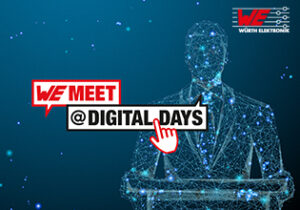 Waldenburg (Germany), April 19, 2021 – "Racing for the Future" is the motto for motorsport fans and eMobility enthusiasts on Tuesday, April 27, 2021, starting at 2:00 pm. Drivers Lucas di Grassi and René Rast from the Formula E team Audi Sport ABT Schaeffler will be taking questions from the audience at Würth Elektronik. At 11:00 a.m., Team Sonnenwagen Aachen e.V. will be presenting their work. The events are part of the virtual specialist conference WE meet @ digital days, at which Würth Elektronik offers an extensive program with expert presentations on EMC, power management and many other circuit design topics. With the Q&A sessions on solar cars and Formula E, Würth Elektronik underlines its large and versatile commitment to eMobility and shows the importance of these technology partnerships for the technical development in these future markets. All information on the Digital Days (26 to 29 April), which are free of charge for visitors, and registration can be found at www.we-online.com/digital-days.
With seven years of successful technology partnership, Würth Elektronik is one of the pioneers of Formula E. It has supported the successful Audi Sport ABT Schaeffler team from the very beginning of the series. Many developments such as the highly efficient SiC gate drive transformer have emerged from these and other technology partnerships in the field of eMobility. At "Racing for the Future," CTO Alexander Gerfer will speak with Lucas di Grassi (former Formula 1 driver and world champion in season 3 in Formula E) and René Rast (multiple DTM champion, currently ranked 8th in the Formula E driver standings). He will open up insights into everyday racing and technological developments to participants of the online event. Digital Days participants can also ask questions themselves.
The Tech Talk with Team Sonnenwagen Aachen e.V. on April 27 at 11:00 a.m. also promises to be exciting. There will be reports about the partnership with Würth Elektronik, the development of the Sonnenwagen III and about the experiences at the iLumen European Solar Challenge and the Bridgestone World Solar Challenge, the toughest solar race in the world.
Interested parties can register for "Racing for the future – Q&A with Lucas di Grassi and René Rast (Formula E Audi Sport driver Abt Schaeffler)" at www.we-online.de/formulae_digitaldays and for the "Tech Talk with Team Sonnenwagen Aachen" at www.we-online.de/sonnenwagen_digitaldays. Participation is free of charge in both cases.
About the Würth Elektronik eiSos Group
Würth Elektronik eiSos Group is a manufacturer of electronic and electromechanical components for the electronics industry and a technology company that spearheads pioneering electronic solutions. Würth Elektronik eiSos is one of the largest European manufacturers of passive components and is active in 50 countries. Production sites in Europe, Asia and North America supply a growing number of customers worldwide.
The product range includes EMC components, inductors, transformers, RF components, varistors, capacitors, resistors, quartz crystals, oscillators, power modules, Wireless Power Transfer, LEDs, sensors, connectors, power supply elements, switches, push-buttons, connection technology, fuse holders and solutions for wireless data transmission.
The unrivaled service orientation of the company is characterized by the availability of all catalog components from stock without minimum order quantity, free samples and extensive support through technical sales staff and selection tools.
Through its technology partnership with the Audi Sport ABT Schaeffler Formula E Team and its support for the Formula Student racing series, the company demonstrates its innovative strength in eMobility (www.we-speed-up-the-future.com).
Würth Elektronik is part of the Würth Group, the world market leader for assembly and fastening technology. The company employs 7,300 staff and generated sales of 823 million euros in 2020.
Würth Elektronik: more than you expect!
Further information at www.we-online.com.