Foxconn wants to expand its offerings to include semiconductors and displays by leveraging the recent acquisition of Sharp and the potential $27 billion purchase of Toshiba's chip business, provided the latter succeeds, suggesting that the Taiwanese electronics contract manufacturing giant aims to become a comprehensive supplier of IT products. According to a new report by Business Korea, Foxconn's plan to make inroads on these industries serves as the pillar of its Flying Eagle strategy, which was recently unveiled by Chairman Terry Gou in a bid to take advantage of the current political and economic situations in the United States, where President Donald J. Trump seeks to create more jobs.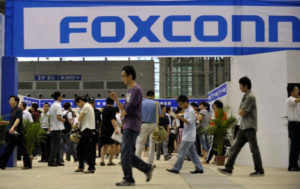 Recent investments announced by Foxconn in the United States indicate that the Taiwan-based company is eager to shift toward the general IT business. For instance, Gou announced in June that the company wants to invest $10 billion in the United States Heartland in an effort to help restore the manufacturing industry in the country after years of seeing US companies migrating manufacturing operations for US products overseas, mostly to China. More specifically, Foxconn has been reportedly planning to build a new manufacturing facility for panels in the United States, although it was not immediately clear whether these displays were for TVs, mobile devices, or computers. Then in June of this year, it was reported that Foxconn was planning to establish a plant either in Wisconsin or Michigan, though it was not clear what product would be produced in the said facility, as the company refused to confirm the report. An unnamed industry insider, however, disclosed that Wisconsin and Foxconn are already in talks about the new plant, which would significantly help increase the number of jobs available to US citizens.
While it remains unclear what offering the said manufacturing plant is intended for, there is a possibility that display panels would be one of the products to be built in the facility. This is after Foxconn purchased Sharp in 2016, which led to speculations that the Japanese display maker could be establishing a display panel factory in the United States with an investment of up to $7 billion. More updates about Foxconn's semiconductor and display panel effort are likely to follow over the coming months.