The AnkerWork M650 wireless microphone employs the computational power and multiprotocol wireless capabilities of the Nordic nRF5340 SoC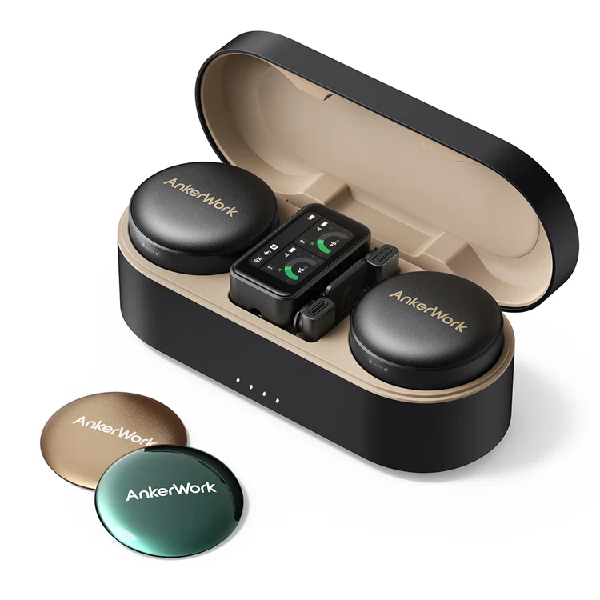 Audio and video solutions company Anker Innovations has launched a hands-free wireless microphone designed for use by content creators. The 'AnkerWork M650 Wireless Microphone' solution includes two transmitters—each of which employ a high-sensitivity omnidirectional microphone for sound pickup—as well as a receiver, all employing Nordic Semiconductor's advanced dual core multiprotocol nRF5340 SoC.
Professional audio for the masses
"The AnkerWork brand is focused on bringing professional audio and video quality to the masses," says Frank Zhu, President of Smart Innovations at Anker Innovations. "As such, the M650 is ideal for content creators – especially those making short videos or broadcasting live."
Each transmitter includes a magnetic back clip so it can be easily attached to the wearer's shirt, and comes with a furry wind cover and VoiceShield™ noise reduction technology to reduce any potential background noise. Audio data is relayed from the transmitters to the receiver using the proprietary TrueLink™ wireless protocol that enables high-definition audio pickup and lossless stereo sound input over a range of up to 200 meters, according to the company.
We chose to use the nRF5340 SoC mainly due the excellent balance of size, performance, and power consumption

Frank Zhu, Anker Innovations
Nordic's nRF5340 SoC integrates powerful dual Arm® Cortex®-M33 processors; a high performance application processor capable of DSP and Floating Point (FP) with 1 MB Flash and 512 KB RAM, and a fully programmable, ultra low power network processor with 256 KB Flash and 64 KB RAM. The dedicated application processor provides ample computational resources to supervise the LC3plus audio codec ensuring clear sound pick-up and stable transmission.
Audio data is relayed to the receiver using the nRF5340 SoC's 2.4 GHz multiprotocol radio. The receiver features a high resolution LCD touch screen enabling the user to adjust input/output and audio settings in near real time with one touch control.
Powered by 350 mAh lithium cells, the transmitter and receiver can operate for up to six hours between recharge, while a wireless charging case can provide an additional nine hours of charge. This battery life is thanks, in part, to the ultra low power operating characteristics of the Nordic nRF5340 SoC. The nRF5340 SoC has been engineered to minimize power consumption with a fully-automatic power management system.
From the receiver the audio can be uploaded to the user's smartphone, camera, tablet, or computer using one of the included cables. The 'AnkerWork' app (available for both Windows or MacOS) can then be used to edit and customize recordings.
Size, performance and power
"We chose to use the nRF5340 SoC mainly due the excellent balance of size, performance, and power consumption," says Zhu. "The Nordic nRF Connect SDK and the application examples provided were also extremely helpful during development.
"The technical knowledge of the Nordic engineers and the timely and professional support that they offered ensured a smooth development process."