A pyroelectric motion sensor is the C-SR505. All objects with a temperature greater than absolute zero emit heat energy. This energy is manifested as infrared radiation. Human bodies, too, emit infrared light radiations. The HC-SR505 sensor detects object motions by measuring changes in the level of infrared light radiations emitted by objects. This sensor is extremely sensitive and offers automatic control. It is extremely dependable and consumes very little power while operating.
The HC-SR505 is a small-size module with a power-efficient sensor that is ideal for battery-powered devices. The HC-SR505 is available in a variety of operating voltages ranging from 4.5 to 20 volts. The HC-SR505 module has a simple interface and can be quickly connected to the controller. The HC-SR505 is a highly sensitive and dependable Sensor module that is ideal for motion or theft alarms. This sensor's output voltage is 3.3V, making it power efficient.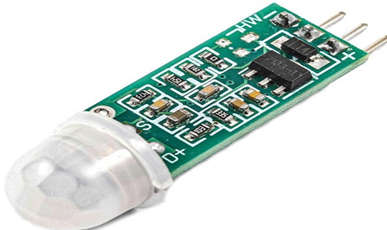 Working principle
When an object enters the sensing range, the sensor is automatically triggered. Connect the power supply and ground. Connect the output pin to the ground, with an LED in between. Connect a resistor in series with this LED as well. When the sensor detects an object, the output pin delivers 3.3V and the LED illuminates. If the sensor does not detect any moving objects, the output pin remains at 0 volts and the LED remains turned off.
Because of its high reliability and sensitivity, this sensor can be controlled automatically. This PIR sensor is used in a variety of automatic electronic devices, particularly those that run on batteries.
Pin Configuration
The image below shows the illustration of the pin in the HC-SR505 PIR Motion Sensor Module.

| Pin No. | Pin Name | Description |
| --- | --- | --- |
| 1 | Ground | This pin is grounded for the operation of the module. |
| 2 | Signal Output | The module provides an output signal at this pin. |
| 3 | Positive power | A positive voltage of minimum +5V is supplied to supply this pin for the device. |
Features and Specifications of HC-SR505 PIR Sensor
A wide operating voltage range is available.
Small Module that fits in any device.
The most basic interface.
Sensitivity is high.
High reliability and quality.
Automatic Control Trigger.
Voltage range: 4.5V to 20V.
60A is the input current.
0V or 3.3V output voltage.
Sensor Range: 3m.
10mm lens diameter.
Temperature range: -20°C to 80°C.
Module Dimensions: 44mm x 11mm Induction Angle: 100°.
Applications of HC-SR505 PIR Sensor
Body induction lamps.
Body sensors toys.
Security Products.
Industrial automation and control.
Auto-sensing of electrical equipment.
Battery-powered automatic control.