72 hours of uninterrupted GPS tracking on a single charge make iGPSPORT's iGS320 cycling computer ideal for long-distance races in complex environments.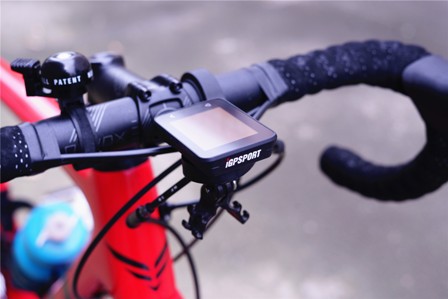 Thalwil, Switzerland – June 22, 2021 – u-blox (SIX:UBXN), a leading global provider of positioning and wireless communication technologies and services, and iGPSPORT, a sports hardware and data service provider operating out of Wuhan, China, have announced the iGS320 cycling computer, which builds on the u-blox M10 positioning platform. The cycling computer leverages the u-blox M10 platform's ultra-low power consumption, compact size, and its ability to track four global navigation satellite systems (GNSS) to offer endurance athletes a superior user experience.
The rise of the Internet of Things and artificial intelligence have reset expectations on the size, accuracy, and power consumption of sports trackers and other wearables. Cycling computers are no exception. As the cycling scene diversifies – with the growing popularity of gravel biking, long-distance rides, and multi-day races – longevity and performance in complex signal environments are gaining importance as key differentiators.
Adopting the u-blox M10 positioning platform in their iGS320 cycling computer brought iGPSPORT an 80 percent increase the power autonomy to deliver 72 hours of continuous tracking, up from 40 hours in their previous solution. Concurrent reception of up to four GNSS constellations increases coverage and accuracy in otherwise challenging signal environments.
"We selected the u-blox M10 platform after a long and careful selection process in which we compared three leading positioning solutions. Because it was specifically designed to meet the demanding size, power, and performance constraints that characterize sports wearables, we found it to be particularly suitable for our iGS320 cycling computer," says Kun Chen, Vice-General Manager at iGPSPORT. "We came to the conclusion that it is the superior product in the industry."
"We have been working with u-blox since our first product, the iGS30. Throughout, u-blox has provided professional technical consulting and expert assistance, empowering our development teams to drive innovation. iGPSPORT hopes to continue working with u-blox in the field of GNSS and IoT communication," he says.
"We value this partnership with iGPSPORT, which has helped better understand our customers' pain points and progress with them by optimizing our product offering," says Lancelot Mei, Regional Application Marketing, in China. "We look forward to continuing to expand our partnership with iGPSPORT in the years to come."
Watch the video to learn more: https://youtu.be/jJ7I_WtvAFU
The iGS320 cycling computer is now on sale.