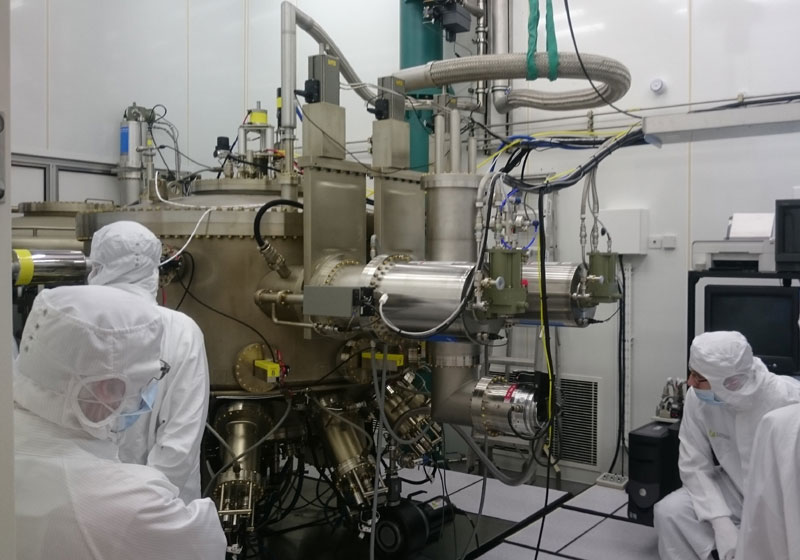 With the Newton Aycliffe facility, II-VI hopes to grow VCSEL capacity and more [Image credit: Kaiam]
As US-based II-VI steadily delivers transceivers, optical subsystems lasers and more, research analysts have predicted healthy year-on-year growth of more than 14%.
For the optics and photonics firm, buoyant times follow a swift string of acquisitions including Anadigics and Epiworks in 2016 as well as significant epiwafer expansion of its production facility in Champaign Illinois, US.
Signalling clear growth intentions, II-VI also acquired a UK-based compound semiconductor wafer fab from Kaiam, US, in late Summer this year.
The Newton Aycliffe facility was originally built by Fujitsu in the 1990s to manufacture silicon memory chips. Several sales later – with Kaiam holding onto the facility for mere months – the plant has been steadily churning out GaAs transistors.
But as Gaurang Shah, senior vice president at II-VI, points out, the facility has the potential to manufacture so much more. "This is a world class facility that can service many growth markets and we will be able to develop and differentiate many technologies and provide customers with the capacity they need to grow business," he says.
"The shell and current general facilities of the plant alone at least double our current capacity, but the infrastructure is there for us to grow this even more and become a significant player in the compound semiconductor market," he adds.
According to Shah, key growth applications include 3D sensing, already earmarked for considerable growth by many VCSEL manufacturers, as well as 5G wireless infrastructure and high speed data centres.
VCSELs will remain as important as ever to II-VI, but Shah reckons future production options at Newton Aycliffe could include InP photonic integrated circuits as well as RF devices based GaAs and GaN-on-SiC materials.
"VCSELs are a key growth area for us but the real purpose of the acquisition is to make the world's most agile compound semiconductor fab," he says. "We want to put several different technologies here as the facility is large enough and also has the capacity to handle this; our growth will go well beyond VCSELs."
Given that six inch epi-wafer production is underway at II-VI's rapidly expanding MOCVD facility at Champaign Illinois, the Newton Aycliffe plant is expected to operate on a six inch platform as well.
As Shah tells Compound Semiconductor, the equipment at Newton Aycliffe is in good shape, and includes an Aixtron G4 MOCVD reactor for in-house epitaxial production.
"We intend to move quickly and aggressively with our plans to roll-out the technologies that we have targeted for the site" highlights Shah. "We expect to produce initial samples of at least one or two of these technologies within a year and reach qualification within the next 24 months."
Right now, Newton Aycliffe is home to a workforce of about 100 employees. According to Shah, the 'quality of the talent here is very high'. And as he adds: "This world class fab has some very good people, and as production increases, we expect to expand this workforce."
Partnership prospects
In the meantime, II-VI is also in the process of putting together a formal working relationship with the facility's previous owner. California-based Kaiam's core business is transceivers for telecom and datacom markets, so II-VI could provide key components as well as finished epi-wafers to the firm.
Indeed, Kaiam's chief executive, Bardi Pezeshki is upbeat about such prospects. As he tells Compound Semiconductor, the facility has a 80% to 20% split with six-inch GaAs, and InP production.
His firm's interests primarily centred on the latter, InP production, but news of six inch production availability stirred up significant industry interest. "A number of companies approached us to use the six inch line for various applications with Kaiam providing foundry services," he says. "This quickly morphed into a number of offers for the whole factory and potentially the new owner providing foundry services for InP."
"The reverse relationship made a lot more sense than Kaiam becoming a foundry for the larger six inch line," he adds.
According to Pezeshki, Kaiam is now using the $80 million cash from its sale to expand its transceiver line and develop next-generation device production. And for Shah, with Newton Aycliffe in tow, II-VI's prospects for growth are certain, as indeed, analysts predict.
"The world of compound semiconductors is very capacity-constrained at the moment so we see huge opportunities here," he says. "We will develop products that are applicable to global markets and this really allows us to expand our business."