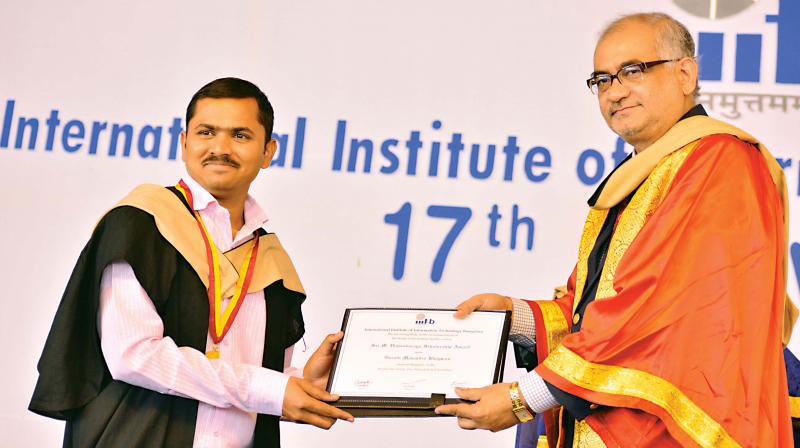 Bengaluru: Being a topper and finding his name in the scroll of honour from a top institute was not even close to what this youngster from a remote village in Maharashtra had ever dreamt of.
Securing the M. Visvesvaraya Scholarship from International Institute of Information Technology, Bangalore (IIITB) with a CPGA of 3.91 in M. Tech (IT), Mahendra Bhagavan Garodi is now looking forward to what he had always aspired for.
"The right amount of exposure at the right time is what helped me get into a profession which matches my talent," says Mr Garodi.
Born to farmer parents, the youngster who hails from Walsawangi village from Jalna district attributes the change in the course of his life to his parents. "They decided to send me to Aurangabad for higher secondary and degree education amid financial challenges, and it was indeed life-changing. It is only then that I started realising the scope of the world outside of what I had seen till then," he said.
Mahendra had worked for two years after completing his undergraduation from the Government College of Engineering, Aurangabad before joining IIITB.
As a man who has seen himself in totally contrasting situations, Mr Garodi remembers the major hurdles he faced. "The shift from Marathi medium to English was as challenging as it was to leave back the village to stay at a cosmopolitan city like Bengaluru," he said.
About his life at IIITB, he said that there was something to learn from all interactions he had at the campus. "With a strong and productive crowd as seniors, juniors and batch mates and down-to-earth dedicated faculty members, everything that was taught was helpful," he said. "The diversity among students informed me about different cultures, exposing me to a totally expanded view of the outer world."
The 25-year old engineer also finds time to visit his village school once in a while to take career-guidance and personality-development sessions for youngsters and to share his experiences and the new world he is exposed to. "We have to realise that an individual can never be perfect in everything he/she pursues. Avoid comparisons, focus on one goal and keep working patiently for results which would come to us gradually," he says. Mr Garodi, who is already placed in an IT firm, will handle embedded system modelling for the company from the city.