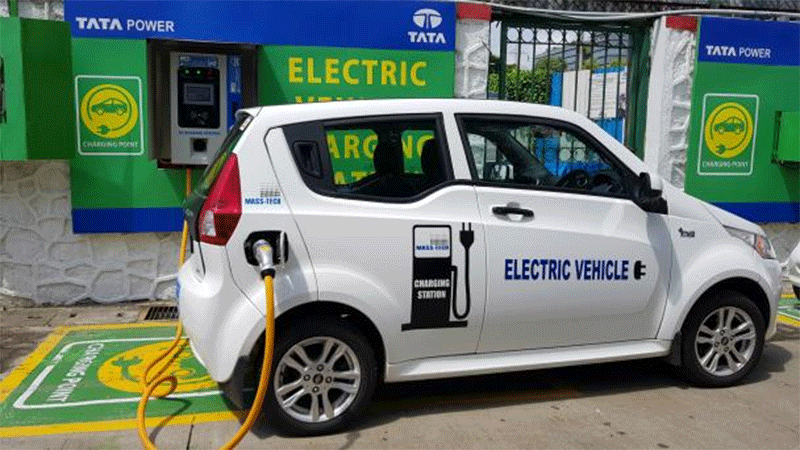 In India, the automobile industry is one of the key segments driving economic growth; and at the same time, one of the principal contributors to pollution and making India dependent on overseas oil. So, with the government's sights firmly set on making India a nation chiefly running on electric transportation by 2030, electric vehicles (EVs) have to make their place, despite their share of challenges in terms of manufacturing infrastructure and also the opportunities they can bring in. The cover story analyses what the future of electric vehicles in the country looks like, are Indians ready for them and what are the areas manufacturers need to look into.
The booming automotive industry is reason to celebrate, much less are its disagreeable consequences of pollution. So, the Indian government is sprinting to switch to all-electric cars by 2030. While India wishes to see its roads run by vehicles on electricity by 2030, the growth of EVs is still considered a market dilemma, including some of the hindrances it brings in the form of infrastructure or people getting used to the idea of it. Consequently, EVs also present umpteen opportunities, especially for the manufacturing sector. Besides, EVs are growing in popularity and are cleaner and more resourceful, making India ready to be globally at par for an electrified future.
The current global EV market
There is a transition observed globally, where countries are shifting to electric vehicles. In 2017, over 1.2 million electric cars were sold, of which two thirds were pure electric (BEV). China has been the driving force in the sales of electric vehicles globally, where sales grew by 73%. "A report by the International Energy Agency (IEA) predicts that there will be over 125 million electric cars on road by 2030 globally," says Chetan Maini, Co-Founder and Vice-Chairman, SUN Mobility, and continues, "However, this transition to EVs can be seen only in a few countries, such as, France, the UK, Norway, China and now India. These high sales of EVs are driven primarily due to financial incentives offered by the government on purchase of EVs and setting up of public charging infrastructure."
There is a global rise in the level of investment in electric vehicles as well. As the demand is increasing, OEMs are expanding their manufacturing capabilities and dedicating specific plants to EV production. Elaborating on this, Rafiq Somani, Area Vice-President, South Asia Pacific and Middle East, ANSYS, explains, "If you look at the latest McKinsey research, China has increased its lead in EV production, followed by Europe and the USA. It is, in particular, driven by the involvement of the government and its policies, pushing ahead to develop its EV market and the industry. The German government and the respective OEMs currently offer subsidised value as much as €4,000 for purely battery electric vehicles to increase sales. But so far, the effect has been limited."
But as far as the Indian government is concerned when it comes to EVs, it has announced the EV Policy, which has created a lot of curiosity in the market. V V Kamath, MD, Fronius India, conveys, "It won't be long before major automakers in India choose to electrify their line-ups to meet the 2030 deadline. Currently, there are very few EV manufacturers in India. This draws the conclusion that the industry has not yet created enough demand to manufacture everything due to the very basic idea of 'price for an ideal car by the Indian customer that is around 10L' in which an ideal electric car will fit in."
Are Indians ready?
Convincing the price-conscious Indian consumers about EVs will have to focus on two factors: the cost of ownership and vehicle quality. Enhancing demand for EVs and better performing vehicles will be vital to accomplish the 2030 target. Additionally, in the long-run, it is more economical to own and maintain an EV.
Hence, consumers need to be made aware of the potential of EVs. They need to be made understood that the technology to power an EV with solar power is already available and this investment pays off faster when the solar power is replacing much more costly petrol. Also, many have the fear that their battery will run out and they will get stranded. There will be options of charging the vehicles at home, the government will be taking care of fast-charging stations along highways and in public places that can re-charge a car/bike in less than 30 minutes.
The opportunities & challenges
With a global growth rate of 60% in EVs, India has the opportunity to become a global player in the space. Maini is of the opinion that public transport and fleet operators have the greatest opportunity, as these vehicles run the longest and commute more number of people. He explains that with the changing mobility landscape, we are seeing a lot of changes in India. He cites, "When it comes to EVs, a 'one size fits all' approach would not work in India. There is a lack of a supporting supply chain, manufacturing and infrastructure ecosystem that deters the pace of adoption. Also, we need to have a supporting government policy framework that is technology agnostic. There is a need for initial financial support for businesses to bring in parity in the tax levied on batteries and EVs. Products and services need to have a high cost and value proposition to its users. Unlike other countries, the Indian market cannot afford subsidies due to the sheer scale of the industry."
Coming to the user's perspective, there are four main deterrents: the high upfront cost of EVs (primarily due to battery costs), long charging time, range anxiety and lack of charging infrastructure. India, being a very price conscious market, would shift to electric mobility only if it finds it to be as cost effective and convenient as the current system for ICE vehicles.
"And the one way we can achieve that is by separating the battery from the electric vehicle, thus reducing the vehicle cost significantly and using a smaller swappable battery," Maini asserts and adds, "It is a solution that offers batteries with infrastructure as a service, on a pay-as-you-go model, similar to the refueling ecosystem for ICE vehicles."
The impact of EVs
The entry of EVs is not something that will come in without making certain inevitable impacts. When it comes to segments, engine parts and drive transmission are segments which would be impacted adversely, as the emphasis would move from engine management to batteries and drive motors. On the other hand, companies which make lighter auto parts would also reap benefits as EVs are supposed to be light-weight in order to get the preferred power output.
However, the transition to EVs could be very quick in India. Explains Somani, "Initially, India will rely on imports for several key components/technologies for EVs. Nevertheless, eventually, an entire supply-chain of such components and systems will evolve to support the production of EVs. Since EVs need electricity, renewable sources of electricity production, such as, solar in particular, will also evolve. Plus, they will save us the dependence on certain global regions to meet fuel needs of the country."
The auto component industry–where does it stand?
While the government is aiming to shift to EVs with an aggressive target of 100% electric by 2030, infrastructure and consumer awareness is not ready to have such a major shift in such a short span of time. Nevertheless, Ayush Lohia, CEO, Lohia Auto Industries, explains that the component industry will see a shift in IC related components. Yet the demand will not come down in the next 10-15 years from the current levels, as the Indian automotive industry is expected to grow at 10% YOY. "If there's even a 30% shift to EVs by 2030, it will mean that the number of EVs in 2030 will be equal to today's industry size," he says.
Maini further tells us that the fact that roughly 50% of Build of Materials (BOM) in an EV is different from that of an ICE vehicle, it will create a new opportunity for auto component manufacturers. So, it is the right time for the auto component industry to adapt to newer businesses in the EV supply chain, as it offers a huge market. "The component industry need not have to press the panic button and should instead prepare itself for the forthcoming challenges," avers Kamath.
Infrasturcture for EVs
Creating EVs for India's drivers and riders is a lost cause unless there is access to charging infrastructure. Generating public charging infrastructure entails profound study of vehicle segments that are to be supplied. It is also imperative to regulate the model for operation of charging stations. Their infrastructure involves upgradation of electricity grids and confirming that electricity production is through renewable means.
According to a Bloomberg New Energy Finance report, India has just over 350 public EV chargers compared with around 57,000 petrol pumps. To overcome this challenge, the Indian government will have to consider putting an end to the cap on electricity sales by distributors, while also making available subsidies to commercial operators.
The skills required
With the process of manufacturing EVs, there will be a major shift in the components front as the key mechanical components will be replaced by electronics components. So, do we have the skills required to handle such a major shift?
"Not for now," responds Lohia and informs, "That's because, in today's scenario, we find a higher percentage of skills from the mechanical side, compared to those from the electrical side, which are the keys in EV."
Furthermore, Kamath opines that any new technology will always bring uncertainty and then, people realise it slowly. The switch from IC engines to EVs will take lots of time and this time zone will create new opportunities to make the components for EVs. By then, the component industry will slowly embrace new technologies. The industrial change will move into full production and then the necessary skilling will definitely need to be updated.
EV technologies being developed
Almost every big name in the automotive industry is putting forward its newest plan that boosts the idea of EVs, of which many have also presented industrially cutting-edge models. When asked about some of the latest EV technologies that are currently being brought about, Kamath puts across that the new dimension added, which could make the turnaround of the EV segment, could be Hydrogen Fuel Cells. "A Hydrogen Fuel Cell electric vehicle is powered by a group of individual fuel cells known as a fuel cell stack," he states and goes on, "The stack is designed to contain enough cells to provide the necessary power for the automotive application. A fuel cell stack produces power as long as the fuel is available. The electricity generated powers the electric motor that propels the vehicle."
EVs versus hybridisation
Most markets are developing from ICE to hybrids and then on to EVs, while India has taken a stand to avoid hybrids completely. "I have always been an EV believer," conveys Lohia and goes on, "EVs will be cheaper than a hybrid vehicle, as hybrid is the amalgamation of EV and IC engine technologies. Plus, upfront vehicle and maintenance cost of the hybrid vehicle will be more expensive." Adding to this, Maini says, "Due to advanced technology, India has the opportunity to bypass hybrids & jump straight to EVs. Over the last few years, the cost of EVs & batteries has come down. On the other hand, the hybrid market in India is very small. It only makes sense to have new vehicles entering the market go electric and the existing ones go hybrid with kits."
The removal of ICEs
Many OEMs have ambitious targets of producing more ICE vehicles in the country and suppliers also have their own plans in consonance with that. The inevitable question arises if these need to be re-looked at now. "The first target is to replace diesel vehicles with EVs," posits Somani and continues, "The Indian government wants to bring in Bharat VI norms by 2020, which is proving expensive for the industry to improve their ICE systems. On top of that, the government also looks to phase out all ICE vehicles by 2030."
The need for lithium
In the years to come, secured sourcing of lithium could be unquestionably pivotal to make EVs a success in any country. However, India does not have enough of lithium reserves for manufacturing lithium-ion batteries. Many experts also consider getting lithium fields in countries, such as, Bolivia or Chile.
Securing lithium supply could help to manufacture batteries at a globally competitive price with the potential of reducing the price of EVs. Moreover, the 'Make in India' initiative would get a lift as Indian automakers could contend with global leaders in the domestic as well as foreign market.
The role of simulation
Simulation is playing an important role in the ongoing improvement of EV technology, helping engineers discover new ways to boost range. It can provide accurate results to measure performance at the earliest possible design stage and help you determine cause and effect because you have a lot more data & insight.
Somani explains, "The use of a consolidated engineering simulation platform is critical to facilitate cooperation across the many different engineering disciplines on the design team, resulting into a wide range of performance improvements — both for the car and the engineering team. The EV OEMs, too, have their share of demands from simulation companies, for instance, batteries for higher vehicle range. Range, cost and weight are three major challenges when it comes to battery technologies, and simulation can help address all these three issues."
Somani further adds that in addition, in the 48-V battery system, power electronics plays a very important role, which might see a lot of adoption in India and world-wide. Simulation helps analyse the signal and power integrity of such power electronics components.
How the manufacturing industry will change
A mounting number of manufacturers and urban developers believe that EVs can have better outcomes for the industry and environment. For countries like India to be equivalent to East Asia, it will require a substantial manufacturing excellence for key components, ranging from battery cells and semi-conductor modules to micro-processors and controllers. Automobile manufacturers will have to thrust aside a majority of today's technologies. Virtually, all reusability between current models and new ones will be gone.