Munich, Germany – 7 December, 2022 – Infineon Technologies AG (FSE: IFX / OTCQX: IFNNY) has been named a CES® 2023 "Innovation Awards Honoree" for three products including its EXCELON™ F-RAM, XENSIV™ Connected Sensor Kit (CSK) and Smart Alarm System (SAS) for smart homes. This year's program received a record high number of over 2,100 submissions. The announcement was made ahead of CES 2023, the world's most influential technology event, happening 5-8 January in Las Vegas, Nevada.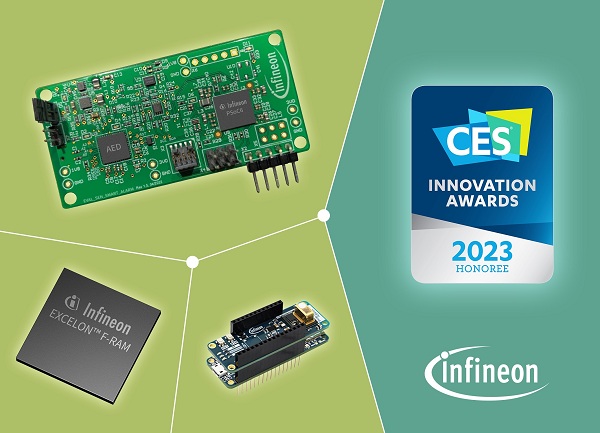 The CES Innovation Awards program, owned and produced by the Consumer Technology Association (CTA)®, is an annual competition honoring outstanding design and engineering in 28 consumer technology product categories. Those with the highest rating receive the "Best of Innovation" distinction. An elite panel of industry expert judges, including members of the media, designers, engineers and more, reviewed submissions based on innovation, engineering and functionality, aesthetic and design.
Infineon's three CES 2023 "Innovation Awards Honorees" include:
Infineon's EXCELON F-RAM – the highest density F-RAM in the market with speeds up to 54 MB/s. EXCELON's key features are its density, performance and reliability. EXCELON is the ideal data-logging memory for portable medical, wearable, IoT sensor, industrial and automotive applications. The family also comprises the EXCELON LP, the ultra-low-energy F-RAM for portable medical devices and wearables. This series features multiple power-saving modes including hibernate, deep power down and standby, and consumes 200x less energy than EEPROMs and 3,000x less energy than NOR flash. See this product in LVCC West booth #3829.
Infineon's SAS – a multi-layered security system that uses data from XENSIV microphones and XENSIV barometric pressure sensors coupled together with acoustic event detection technology, sensor fusion algorithms running on the PSoC™ family of MCUs to provide true protection and monitoring against burglary, intrusion. The system runs on machine learning TinyAI algorithms that manage acoustic events, pressure events, or combined events into one sensor fusion architecture. By combining audio with pressure information, SAS only acts when expected for use cases such as smoke detection, home intrusions and carbon monoxide detection. See this product in the Venetian hotel ballrooms, Titian 2204 and 2205.
Infineon's XENSIV CSK – the go-to sensors platform for IoT device development. This kit allows design engineers to create new prototypes based on Infineon sensors including radar and environmental sensors, as well as the whole set of system-completing semiconductors. The CSK gives IoT devolopers the opportunity to rapidly design, develop and manufacture products based on a development ecosystem. The kit also supports testing sensor-driven IoT products and use cases, along with prototyping. This enables customers to significantly reduce the time from proof-of-concept to a fully developed, finalized IoT design, for smart home applications. The kit comes complete with an XENSIV BGT60TR13C (60 GHz radar), PAS CO2 sensor and DPS368 barometric pressure sensor, PSoC 62 low-power dual-core MCU, low-power Wi-Fi (dual band – 2.4 and 5 GHz) and Bluetooth® 5.0 combo, along with an OPTIGA™ Trust M security component and use of Infineon's ModusToolbox™ software ecosystem. See this product in the Venetian hotel ballrooms, Titian 2204 and 2205.
New for CES 2023 – CES has partnered with the World Academy of Art and Science (WAAS) to showcase the critical role of technology in support of the United Nations efforts to advance human security around the world. For CES 2023, CTA introduced a new category of Innovation Awards showcasing technologies advancing human rights. The Human Security for All category includes eight new tech subcategories.
The CES 2023 Innovation Awards honorees, including product descriptions and photos, can be found at CES.tech/innovation. More will be revealed in January. Many honorees will showcase their winning products in the Innovation Awards Showcase at CES 2023.
Owned and produced by CTA, CES 2023 will take place in Las Vegas on 5-8 January, 2023, with Media Days taking place 3-4 January, 2023. Attendees will experience new technologies from global brands, hear about the future of technology from thought leaders and collaborate face-to-face with other attendees. The show will highlight how innovations in sustainability, transportation and mobility, digital health, the metaverse and more are addressing the world's greatest challenges. Audiences will hear from industry experts during live keynotes, including leaders from John Deere and AMD. Visit  www.CES.tech for all CES 2023 updates, registration details and the media page for all press resources.